Food Sustainability Challenge
The Food Sustainability Challenge is a UK based project funded by The Rothschild Foundation which aims to explore and support the development of food sustainability interventions taking place in UK botanic gardens.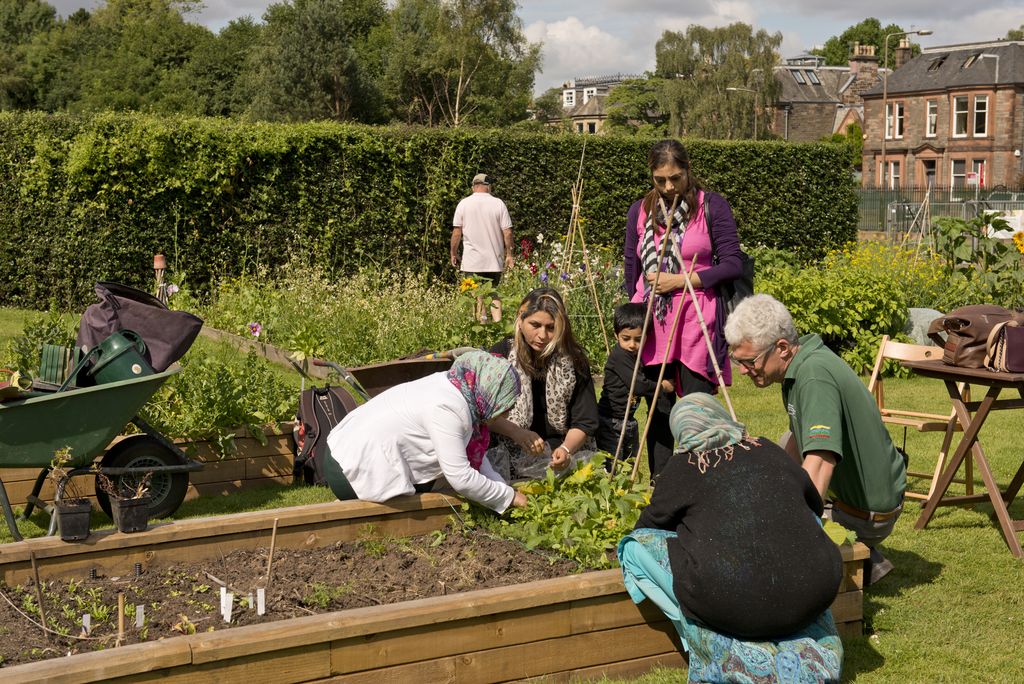 Status of project

Ongoing

Region

Europe

Country

United Kingdom

Topic

Public Engagement

Donor

The Rothschild Foundation
About the project
The UK Food Sustainability Challenge is a three year project funded by The Rothschild Foundation, which focuses on the topic of food sustainability and climate change.
The UK Food Sustainability Challenge aims to work with botanic gardens in the UK to gather examples of ways in which botanic gardens are engaging their visitors and the local community with food sustainability – whether that be growing their own vegetables, community gardening, composting, sustainable diets or projects around food diversity and resilience. We are also investigating existing UK projects and campaigns on the topic of food sustainability that gardens can get involved with and developing smaller food based projects in conjunction with gardens to develop some of these ideas further. Finally we are coordinating a UK food sustainability consortium to discuss the role that botanic gardens are and could be playing in engaging the general public on this important subject.
The culmination of this work is the identification of a series of possible food sustainability challenges that can be developed into full scale challenges as part of a larger, global project – The Sustainability Challenge.
BGCI has over 55 member gardens in the UK, including RBG Kew, RBG Edinburgh, the Eden Project and the National Botanic Garden of Wales. Many of our UK member gardens are world leaders in sustainable practices, including water saving, renewable energy, recycling, composting, sustainable food sourcing and avoiding food waste.
Activities
Key activities of this project include:
A literature review of food sustainability activities within UK botanic gardens and the wider community
A best practice report of UK food sustainability case studies
Development of a Food Sustainability Consortium
Development of a wider global sustainability challenge project
Progress so far
In the first two years of the project we undertook a literature review of UK botanic gardens, to gather case studies on existing programmes and initiatives around food sustainability. This included surveys, data searches and interviews with individual gardens.
In addition we carried out a global survey of our members to look at what gardens are currently doing to contribute to climate change action – through their own internal practices and the way in which they engage their visitors with these messages. The result was the BGCI Technical Review – The role of botanic gardens in practising and promoting environmental sustainability.
UK Food Sustainability Opportunities for Botanic Gardens
Below is a list of existing projects and campaigns that focus on food sustainability that botanic gardens can get involved with.
The Fruit and Veg Food Waste Challenge is a one year pilot project coordinated by BGCI that aims to challenge visitors of English botanic gardens to take on a 30 day challenge to reduce their fruit and vegetable food waste.
Food Forever is a campaign organised by The Crop Trust, which calls upon the global community to protect the vast, colourful spectrum of diversity within our food system. BGCI and The Crop Trust (with RBGE, RBG Kew, The Leichtag Foundation) have been collaborating on a Food Forever exhibition toolkit – free to botanic gardens.
A community fridge is a space where local residents can share and access surplus food, including donations from local food businesses. Hubbub coordinates the world's largest Community Fridge Network with over 100 incredible community fridges running around the UK, and plenty more setting up.
Feedback is a campaign group working to regenerate nature by transforming our food system. They have a variety of campigns includes those on food waste, food policy and food citizenship. For example the campaign Feeding the 5000 involves public feasts to showcase the delicious solutions to food waste.
Cool Food is a French-British project created under the France (Channel) England Programme to support the transition to a low-carbon economy. It focuses on the development and adoption of new or existing low-carbon technologies in sectors with the highest potential to reduce greenhouse gas emissions. The project created 10 commitments – or challenges – for individuals to take on. Each one helps to make a noticeable carbon saving and individuals that sign up are provided with a range of hints, tips and delicious recipes to inspire.
Good to Grow (previously called the Big Dig) is an online platform to support food growing in the UK, run by Sustain. The Good to Grow Network is all about getting people involved in their local community garden.
Gardens that are part of the network can promote their activities using the project's platform to encourage new volunteers. The platform also has a series of available resources such as the Harvest-o-meter, an online tool that helps growers keep track of how much food they grow and how much money they save.
Contact
For additional information about this project or if you are a UK botanic garden that would like to get involved with the project please contact Helen Miller or Dominic Grantley-Smith.