Plants, People, Planet - a new journal
2 November 2017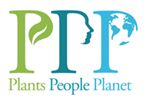 Plants, People, Planet
The vision of Plants, People, Planet is to promote and celebrate outstanding plant-based research in its broadest sense and become the 'go to' journal for everything new, innovative and exciting in plant sciences that is relevant to society and people's daily lives.
Plants, People, Planet aims to publish outstanding research across the plant sciences, placing it firmly within the context of its wider relevance to people, society and the planet. We therefore encourage scientists to consider carefully the impact or potential impact of their research on people's daily lives, on society, and on the world in which we live. We welcome submissions from all areas of plant sciences, from ecosystem studies to molecular genetics, and particularly encourage interdisciplinary studies, for instance within the social and medical sciences and chemistry and engineering.
Plant science is a rapidly-moving field, and as such, Plants, People, Planet offers a platform for new and emerging plant science subject areas that have the potential for societal impact. To highlight the impact or potential impact of the research to society all submissions should be accompanied by a 'societal impact statement'.
For more information on the journal please download the flyer, visit www.newphytologist.org/plants-people-planet or email PPP@lancaster.ac.uk.