Resource centre > Plant Conservation in South Korean Botanic Gardens
Plant Conservation in South Korean Botanic Gardens
BGjournal
Volume 3 Number 2 - July 2006
Song Ki-Hun
Korea has successfully built a strong foundation for economic development starting in the 1970s. However, it neglected to include the protection of the environment and South Korea is now faced with the extinction of various animal and plant species. Under these circumstances, the Ministry of Environment has put forward plans to conserve rare and endangered species by conservation in situ and ex situ. For this purpose, in situ conservation is currently being implemented through legislation, while ex situ conservation is largely entrusted to botanic gardens.
Thus far, five botanic gardens have been designated ex situ conservation agencies for plants: Halla Arboretum, Jeju Province; Hantaek Botanical Garden, Gyeonggi Province; Yeomiji Botanical Garden, Jeju Province; Keechungsan Botanical Garden, Gyeongsangbuk Province and Korea Botanical Garden, Gangwon Province.
Hantaek Botanical Garden, Keechungsan Botanical Garden, and Korea Botanical Garden are privately owned. Hantaek Botanical Garden grows 12 species for conservation and restoration: Rodgersia tabularis, Crypsinus hastatus, Wasabia koreana, Jeffersonia dubia, Iris odaesanensis, Iris dichotoma, Hylotelephium ussuriense, Abeliophyllum distichum, Brasenia purpurea, Paeonia obovata, Thalictrum coreanum, and Corylopsis coreana.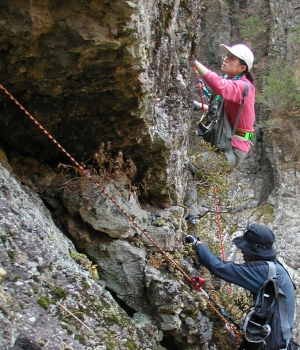 Botanists restoring Hylotelephium ussuriense
to the wild in Gyeonggi Province
Image:Song Ki-Hun
Keechungsan Botanical Garden steadily propagates and restores 10 local plants from Ulleungdo Island and the east coast of the Gyeongsangbuk Province: Cotoneaster wilsonii, Trillium tschonoskii, Iris odaesanensis, Jeffersonia dubia, Hylotelephium ussuriense, Berchemia berchemiaefolia, Bupleurum latissimum, Scrophularia takesimensis, Lilium cernuum, and Thalictrum coreanum. Lastly, Korea Botanical Garden has 10 species identified for ex situ conservation: Jeffersonia dubia, Rhododendron aureum, Paeonia obovata, Iris odaesanensis, Echinosophora koreensis, Arctous ruber, Eleutherococcus senticosus, Brasenia purpurea, Thalictrum coreanum, and Anemone koraiensis.
On the other hand, Halla Arboretum, which is managed by Jeju City, conserves 13 local species of Jeju Island: Hibiscus hamabo, Aerides japonicum, Cymbidium kanran, Quercus gilva, Tilia rufa, Paliurus ramosissimus, Euchresta japonica Benth, Saururus chinensis, Brasenia purpurea, Sarcanthus scolopendrifolius, Chloranthus glaber, Neofinetia falcata, Cymbidium lancifolium, and Asplenium antiquum. Yeomiji Botanical Garden managed by Buguk Development Co., Ltd. plans to develop artificial propagation techniques for 12 species of plants in danger of extinction and protected wild plants, and restore them to their habitats in Jeju island, including Aerides japonicum, Diapensia lapponica, Psilotum nudum, Quercus gilva, Isoetes japonica, Cymbidium nipponicum, Chloranthus glaber, Euchresta japonica Benth, Chloranthus glaber, Cymbidium kanran, Paliurus ramosissimus, and Tilia rufa.
The designation of ex situ conservation agencies is essential to establish a preventive system to minimize the extinction of Korean native plant species. There needs to be ex situ conservation measures for endangered species as well as strong measures for in situ conservation of wild species.
In this regard, Korean botanic gardens are recognized for their importance as ex situ conservation agencies. They will continue to promote in earnest various projects to conserve, propagate and restore endangered species. This will maintain the biodiversity of life in Korea through artificially propagating wild plants in danger of extinction, which are difficult to conserve outside their habitats and to restore them to their proper habitats.

About the Author
Song Ki-Hun is Secretary General of the Korean Association of Botanical Gardens and Arboreta
E-mail: arboreta@kornet.net
Wonji-dong 104
Seochu-gu
Seoul 137-150
Korea
Tel: +82 (0)2-593-6435/02-575-6441
Fax: +82 (0)2-575-6441
Internet: www.kabga.or.kr