Sylvia Scholars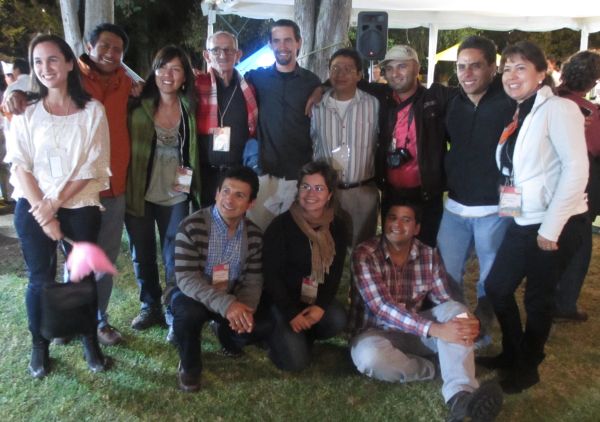 Thanks to the Sylvia Scholarship fund, 11 scholars were supported to attend BGCI's 8th International Congress on Education in Botanic Gardens in Mexico City. Read the selection of testimonials about what attending the congress meant to them:


Morelia Amante Calderón, Cerro Punhuato National Park, Mexico


Attending the congress gave me an opportunity to see the big picture and to understand the challenges and achievements of other countries. It's really important we work together as botanic gardens and adopt a community approach. During the congress we ran a workshop on creating songs to help you remember plant names. Following the congress we have posted information about this on our blog (http://consultoriasiruki.wordpress.com/2012/11/28/10-pasos-para-crear-canciones-que-ayuden-a-recordar-nombres-de-plantas/). We are now collecting songs from nine botanic gardens to share with botanic gardens around the world and have started visiting primary schools to promote the naming of plants through songs.
Ramón Cristóbal Ríos Albuerne, Villa Clara Botanic Garden, Cuba

Meeting educators and environmental specialists from different parts of the world was very important for me as I was able to learn new educational methods for implementing the GSPC. Since returning to Cuba we have held a workshop to share our experiences and materials with Central Cuban Botanic Gardens.
José Gabriel Cerén López, Natural History Museum, San Salvador, El Salvador

BGCI's education congress has opened my eyes to what can be achieved in education in botanic gardens. As a result of the congress, I have made contacts with people and institutions and this will enable me to develop an education programme in Saburo Hirao Park focusing on medicinal and aromatic plants, among other themes.
José Ignacio Giraldo Arango, Villavicencio Medicinal Garden, Colombia

The congress was a marvellous experience, it has filled me with enthusiasm to continue my work in Colombia. I learnt a great deal, in particular how important it is to integrate environmental and cultural aspects in an education programme. I am looking forward to strengthening the participation of children and adolescents in workshops and to running educational activities in the community to promote the conservation and enjoyment of plants.
Neil Gerlowski, Vallarta Botanical Garden, Mexico

Through the creative involvement of our generous volunteers, we have a large impact in our region in terms of horticulture, ecology, and conservation education, . Learning about current trends and successful practices in botanic education throughout the world allows us to excel in our efforts even more. Specifically, we are already revamping our educational programmes to include aspects of inquiry-based science education that was taught at the congress.

Maria Trinidad Rodriguez Aguirre, Professor, National University of Education, Lima, Peru

My experience at BGCI's Education Congress has encouraged me to set up a volunteer programme at the National University of Education Botanic Garden and to improve the ecological garden. Several of my students have begun research into raising insects for biological control on the university campus.