The Australian Botanic Garden, Mount Annan
Australia - New South Wales - Mount Annan
Institution Code: NSW
International Agenda Registration: Yes
BGCI Member: Yes
Brachychiton bidwillii flowering in the Kurrajong Arboretum.
About the The Australian Botanic Garden, Mount Annan
The Australian Botanic Garden displays over 2000 Australian native plant species, set in 416 hectares of hills and lakes. The Garden features outdoor sculptures, barbecues, a restaurant and a gift shop which sells plants. The Australian Botanic Garden is a major event venue and the most popular visitor attraction in south-western Sydney.
Main Address:
The Australian Botanic Garden, Mount Annan
Narellan Road
Mount Annan
New South Wales 2567 Australia

Telephone: 61 (0) 2 4634 7900
Fax: 61 (0 )2 4634 7950
URL: www.rbgsyd.nsw.gov.au/welcome/annan
Primary Email: Mount.Annan@rbgsyd.nsw.gov.au
Community Greening
The Royal Botanic Gardens and Domain Trust is celebrated as one of the world's significant botanic garden organisations, internationally respected for its work in science, conservation, horticulture and education across three sites – the Royal Botanic Garden Sydney, the Australian Botanic Garden Mount Annan, and the Blue Mountains Botanic Garden Mount Tomah.

The Royal Botanic Gardens & Domain Trust (RBGDT) has a commitment to take its expertise 'beyond the garden walls' and serve the broader community through innovative outreach programs.
Community Greening aims to encourage participants to be mindful of the Earth's resources and reduce their food miles and carbon foot print by supplementing their food shopping with locally grown produce in an environmentally sustainable manner.

To meet this objective the Community and Education Programs unit has forged strong links with communities who have established or are interested in establishing their own communal gardens.

Project start date: August 2000
Project end date: 2016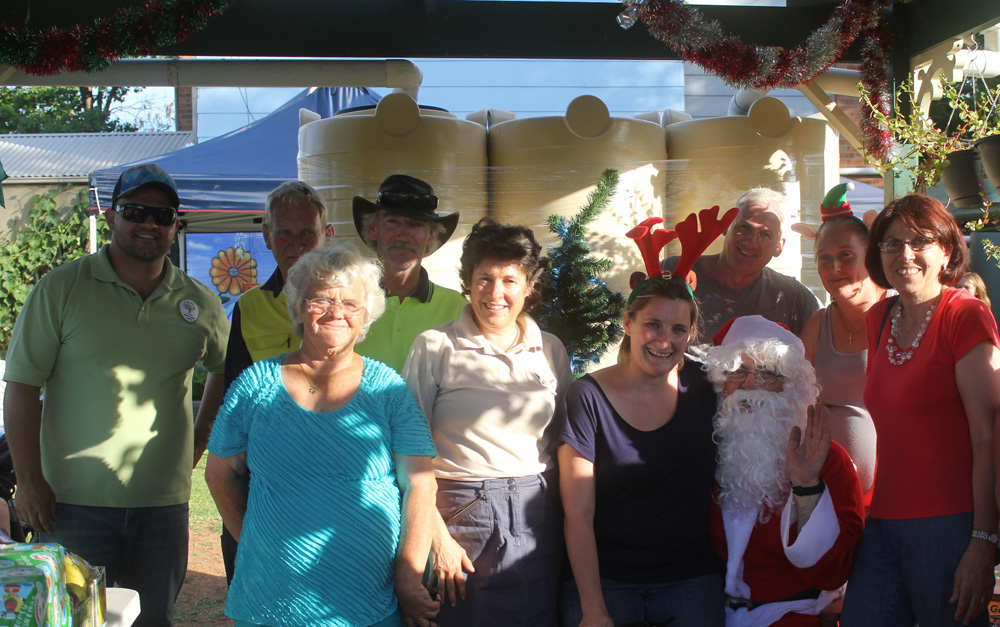 Bidwill Christmas Event and bushfire appeal and Masterclass winners Lisa and Angie.
©RBGDT

ABOUT
Community Greening promotes communal gardening in social housing communities, and on nearby land, to improve social cohesion, public health, education and employment opportunities and reduce crime in both urban and rural areas of New South Wales. Working in partnership with Housing New South Wales (HNSW), local authorities and businesses, the project enables the RBGDT to reach new audiences and provide practical environmental education at no cost to participants. RBGDT provides advice, technical expertise, education, training, guidance and surplus plant and landscaping material.

Community Greening works with individuals from marginalised or vulnerable community groups, including those in long-term unemployment, people in deprived areas, people with mental or physical disability and young people with low levels of education. This has included over 230 social housing resident groups and over 130 schools and youth programs.

The aim of the program is for residents to be in control of the entire process. HNSW and RBGS perform advisory roles and support each community group according to their individual wants and needs as well as promoting ideas and practices relating to food security and sustainability, for example, through waste recycling (primarily composting and worm farming activities). To ensure this the staff work flexibly with community groups. However, a general prodedure is outlined below:

Step 1 – The decision to establish a Community Garden
Residents make contact with their Client Services Officer (CSO) to register their interest in establishing a community garden or, if CSOs identify an interest within the community they can begin the process.

Step 2 – Nominate an interested group
As many volunteers interested in different aspects of the garden (i.e planning and design, setting up, organising materials, maintenance etc) as possible are identified.

Step 3 - Identify Site
Areas of unused land, derelict land that might benefit from an improvement, etc. are considered.

Step 4 – Liaising with HNSW and RBGDT
A morning/afternoon tea or BBQ with HNSW staff and education officers from the gardens is arranged to discuss ideas. Sometimes visits to other successful community gardens are arranged.

Step 5 – Designing the site
Primarily the responsibility of residents, RBGDT and HNSW staff are there to give advice. At this stage the participants must consider:
- the purpose of the garden - i.e. vegetable garden, native garden for education, flower garden , etc
- physical qualities of the garden - i.e. soil type, gradient of the land, direction of the sun, etc
- the tyres of people using the site and its accessibility
- environmental issues -i.e. composting, worm farm for recycling garden refuse etc.

Step 6 – How are you going to do it?
Participants and staff consider how to obtain materials. This can include sponsorship from local businesses or council. The local media are involved, to raise awareness and support and recognise the work of those involved.

Step 7 – Ongoing maintenance and management
To prevent a loss of interest in participants, individuals who will be responsible for the ongoing management of the site nominated or a management plan is devised. In addition, community activities can be organised.
Airds Tharawal before.
©RBGDT

Airds Tharawal in progress.
©RBGDT

Airds Therawal.
©RBGDT

IMPACT
The gardens have become self-sufficient requiring less and less support from the Community Greening Program. The project has provided an opportunity for participants to gain on the job training and skills in horticulture and landscaping. Several participants have gone on to obtain work in related horticulture fields or other work due to improved communications skills, confidence and agency support.

The gardens have helped to improve the health of project participants. Communal gardens provide opportunities for a greater number of people to participate encouraging a sense of shared goals and increased social interaction while providing gardeners with allotments can increase their sense of ownership and encourages them to maintain their commitment to the garden. In cases where young people were made to feel included in the gardens, vandalism was reported to be less of a problem and opportunities arose for younger and older people to work together which has helped to reduce negative stereotypes.

The program has demonstrated an impressive ability to generate a cross-sector and cross agency commitment at a local level and there has been considerable partnership development between the business sector and the public sector, both at a local and a higher, program level.

The project has included tours of the three botanic gardens, where those involved ordinarily would not have had the confidence, ability, finances etc to visit. This has engaged the community with the gardens both offsite and onsite and broadened audiences.

Due to the success, positive examples and promotion of the Community Greening Program other groups have developed projects and gardens of their own.


For more information, read the evaluation report: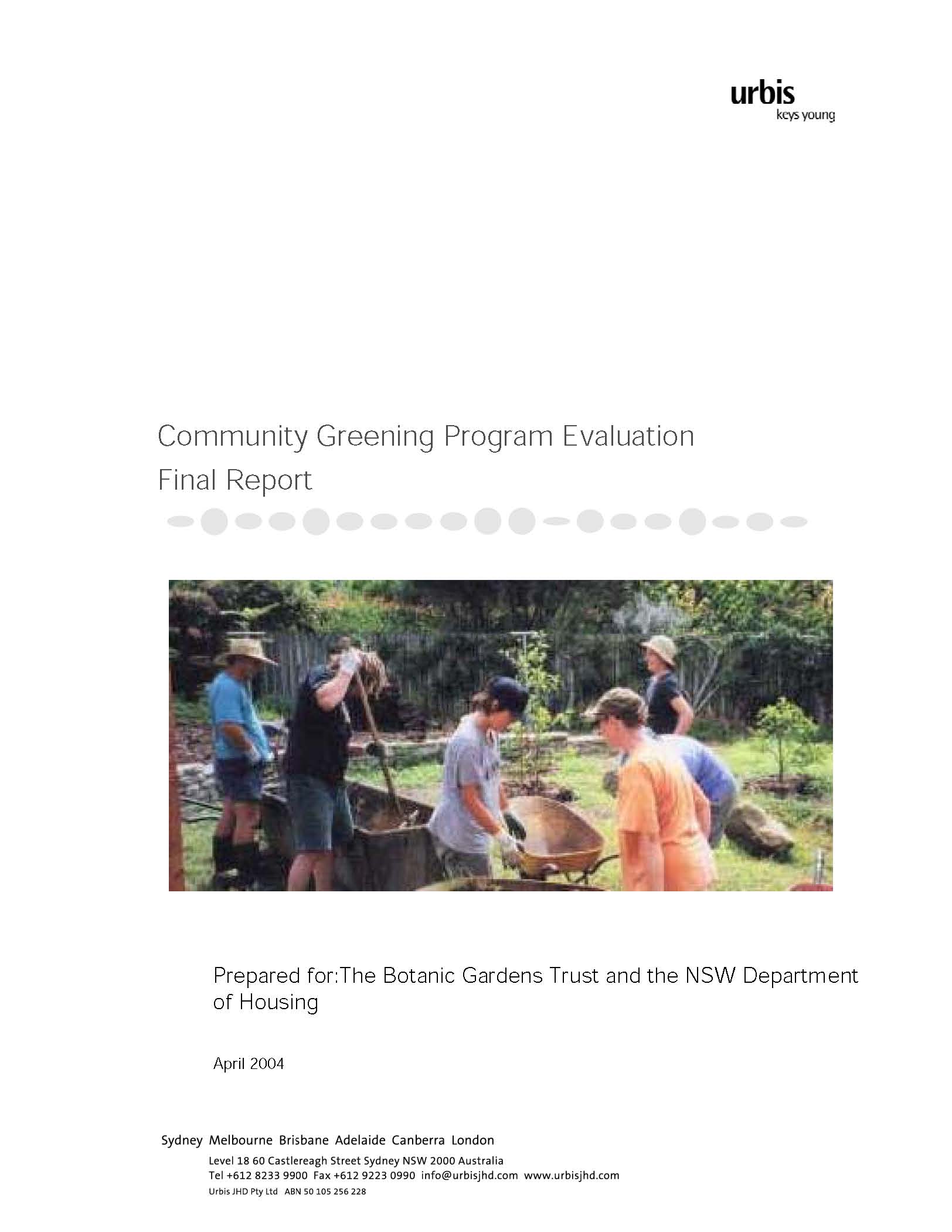 WHAT'S NEXT?
It is hoped that the project will continue.


PRACTITIONERS AND SPONSORS
Phil Pettitt, Community Greening Coordinator, philip.pettitt@rbgsyd.nsw.gov.au
Relle Mott, Manager Community & Education Programs

The Community Greening Project is externally funded by HNSW, the Department of Family and community Services.

An off shoot of the program, Youth Community Greening, is funded the Eden Foundation.

The following organisations have recently provided valuable ongoing support (many others have contributed throughout the project):
Eden Gardens and Garden Centre
Oasis Horticulture
Alpine Nursery
Edible Plantscapes
Colourwise Nursery (NSW)
Yates
Northcote Pottery
Twigz


---
Invasive species and ecological restoration program
African olive (Olea europaea ssp. cuspidata) is a high ecological impact invasive tree at Australian Botanic Garden, Mt Annan (ABGMA) and throughout western Sydney. Control of over 40ha of olive forest has been now completed at ABGMA, and ecological restoration of these degraded sites is now proceeding.
A research program into African olive seed ecology is combined with the development of restoration techniques that focus on the establishment of Cumberland Plain Woodland native grasses on degraded olive sites. A $100k NSW Environmental Trust grant has been secured to develop a 1500 sq metre native grass seed production area as part of the Australian PlantBank landscape which will provide high quality grass seed for restoration research at ABGMA.
---
Restore and renew New South Wales
Developing large scale, practitioner friendly, decision-support systems for 'evolutionary-informed' ecological restoration of the NSW flora.

The objective of this project is to provide an easily accessible source of evolutionary, functional and environmental data that will guide long-term adaptation strategies for landscape management, and facilitate decision-making during ecological restoration practices by agencies, communities and landholders.
In a world first, this project will take advantage of newly developed technologies and economy of scale to obtain research-based ecological restoration guidelines for over 200 plant species that represent the breadth of NSW's floristic diversity, including many of the taxa that are commonly used in revegetation projects across the state.
The scope of the research will extend from using genetic tools to guide seed sourcing strategies, to developing seed handling protocols and supporting planting of 'climate-ready' populations. The study is based on a range of local pilot studies that were used to develop standardised technical approaches.

| | |
| --- | --- |
| | Map of coastal NSW showing optimised collection strategies for 12 rainforest species based on distributional and environmental models (map by C. Allen). |
| | Collecting DNA and seed material from a selection of upland swamp plants on the Newnes plateau (photo by M. Rossetto). |
---