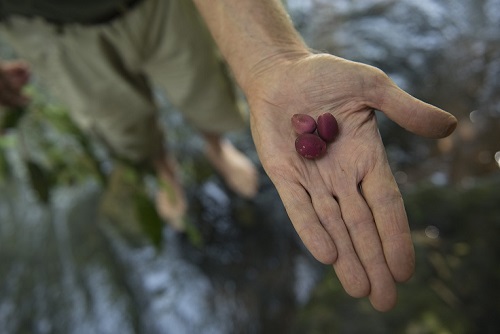 Global Seed Conservation Challenge
The Global Seed Conservation Challenge (GSCC) is a major new intitiative of BGCI. The GSCC will increase the contribution of botanic gardens towards the Global Strategy for Plant Conservation (GSPC) which seeks to halt the continuing loss of plant diversity.

Target 8 of the GSPC calls for '75% of threatened plant species in ex situ collections, preferably in the country of origin and at least 20% available for recovery and restoration programmes'. The Convention on Biological Diversity's mid-term review of the GSPC highlighted that more needs to be done if the 2020 targets are to be achieved.

Ex situ collections of plant species act as an insurance against extinction in the wild while being available for research, reintroduction and restoration. Botanic gardens are the main institutions involved in ex situ conservation of threatened species with nearly one third of all known plants grown in botanic gardens.
More than 400 botanic gardens worldwide are banking seed for conservation.
Map of botanic gardens involved in seed banking

The GSCC seeks to highlight and commend the progress achieved by the botanic garden community in ex situ seed conservation. All gardens that actively contribute to ex situ seed conservation are making progress towards the ambitious objectives of Target 8 and are therefore participating in the GSCC.


The Challenge aims to:
Engage more botanic gardens to become involved in seed banking, working 'outside the garden walls' to bring into ex situ collections threatened species that are not already conserved;
Award prizes for seed conservation at the 6th Global Botanic Garden Congress in 2017;
Strengthen networks to help botanic gardens share experiences and resources in seed banking;
Establish a seed collecting 'hub' at BGCI which will provide a 'one-stop-shop' for seed banking information and training resources;
Provide training and build capacity to support seed collecting and raise seed banking standards.
How can you participate?
Share data
Promotion
Send us your seed banking stories;
Enter the seed banking competition.
Conservation
Collect and conserve seed from more threatened species.
How is BGCI contributing?
Training
Organise training courses on seed conservation;
Provide resources on seed banking;
Support capacity building according to priorities.
Review and reporting
Collate information on ex situ seed collections;
Baseline study and gap analysis of current seed banking activities within the global botanic gardens network;
Work towards a major review of seed banking efforts which will be reported on at the 6th Global Botanic Gardens Congress.
Prioritisation
Provide information on which species are not represented in ex situ collections;
Determine priorities for collection.
Promotion
Highlight stories/news from botanic gardens on seed conservation;
Award prizes for seed conservation at the 6th Global Botanic Gardens Congress.
Set intermediary seed collecting targets and challenges.
For more information or if you would like to get involved email katherine.odonnell@bgci.org