Wanted: Your Help to Plant a Billion Trees
GLOBAL
17 November 2006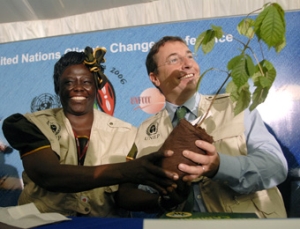 "What I have learned over the years is that we must be
patient, persistent, and committed. When we are planting
trees sometimes people will say to me, 'I don't want to
plant this tree, because it will not grow fast enough'.
I have to keep reminding them that the trees they are cutting
today were not planted by them, but by those who came before.
So they must plant the trees that will benefit communities
in the future."

Wangari Maathai, Unbowed: One Woman's Story

Wangari Maathai, Nobel Peace Prize winner and founder of Kenya's acclaimed Greenbelt Movement, last week announced the launch of a new initiative by the United Nations Environment Programme (UNEP) calling on concerned individuals, community groups, schools, businesses and governments around the world to work toward achieving the collective goal of planting one billion trees during 2007 to combat global warming.
"This is something that anybody can do," Maathai told delegates to a United Nations conference on climate change taking place in Kenya. The conference, which has drawn delegates from more than 100 countries, was convened to help come up with new solutions to the onslaught of global warming. Maathai reported that tree planting is much more than a symbolic act, since trees absorb carbon dioxide that could otherwise end up in the atmosphere, where it contributes to global warming. By participating in the campaign, she said, people can be part of the solution.
Individuals and groups can participate in the tree planting campaign by signing up on UNEP's new Billion Tree Campaign website and registering the trees they plant during the 2007 calendar year. UNEP will provide a running tally of the results online while it coordinates specific tree planting efforts in different countries around the world.
Indigenous Planting is Important
The campaign encourages the planting of indigenous trees and trees that are appropriate to the local environment. Advice on tree planting will be made available via the website, as well as information about reforestation and other tree-related issues, including links to appropriate partner organizations best equipped to give locally tailored advice, such as the World Agroforestry Centre (ICRAF). Because ideal planting conditions vary in different regions, the campaign will operate throughout the year.
How Trees Affect Climate
It is a fact that around one quarter of global carbon emissions come from deforestation and that leaving existing forest intact should be the first priority for combating global warming and mitigating its effects.
Trees not only absorb CO2 as they grow, but help to stabilise climate, promote rainfall, cool the air through transpiration, and act as a buffer against storms and flooding. They also provide habitat for many species. When forest is cleared, CO2 is released from the dying trees but you also lose the "carbon sink" that living trees can provide to mop up emissions from fossil fuels. So deforestation is a "double whammy" for climate change.

Tree planting can be useful in areas that have been deforested, but it is always important to carry out tree planting wisely and sensitively. Planting non-native trees can create more problems than they solve, if the trees are not suitable for the local environment.