Etelka Leadlay Launches Taxonomy Book
LONDON
11 January 2006
On Tuesday 10th January, 2006, the launch of Taxonomy and plant conservation took place in the library of the Linnean Society in London.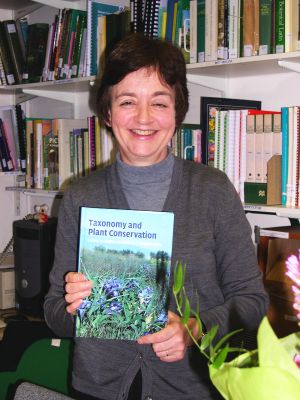 The book is a tribute to Professor Vernon Heywood, who was the first Director of BGCI (1987-1993) and whose work highlights the importance of sound scholarship, training and collaboration for plant conservation. The President of the Society, Professor Gordon McG Reid welcomed the guests and a copy was presented to Vernon Heywood. Professor Gren Lucas of the Linnean Society said, 'the title of the book said it all' and that we are relying on the next generation of taxonomists for the work ahead.
The book has been edited by Etelka Leadlay (BGCI) and Stephen Jury (The University of Reading) and includes chapters from members and former members of BGCI's Board of Directors, Trustees and the International Advisory Committee (Peter Crane, James Cullen, Ghillean Prance, David Bramwell, Stephen Blackmore) and a paper co-authored by BGCI staff (Etelka Leadlay, Julia Willison and Peter Wyse Jackson) entitled 'Taxonomy: the framework for botanic gardens in conservation'.
The book highlights the importance of taxonomy for the conservation and the sustainable use of plants. Without a sound taxonomic knowledge, we can conserve the wrong things, reintroduce the wrong things, do unnecessary research (for development and conservation) and legislate and monitor for the wrong things which all leads to a loss of plant diversity. This is a waste of effort and money and most importantly time which is short.
The book also shows that taxonomy is a methodical discipline which tries to identify the relationships of plants and thus measure their diversity and not an arbitrary activity which is possibly the common perception.
Taxonomy and Plant Conservation (Cambridge) eds. Leadlay and Jury was published on the 19th January. For more information and copies, please visit: