BGjournal Special 20th Anniversary Editions
2007 was BGCI's 20th Anniversary year and also the 300th anniversary of the birth of Carl Linnaeus, father of modern taxonomy.
To commemorate these events the Rufford Maurice Laing Foundation enabled BGCI to publish special editions of BGjournal.
We are making these special editions available in full, for free, at the time of publication - normally BGJournal is only available to non-members one year after publication.

January 2007 - Taxonomy and plant conservation
"God made the world a flowering tapestry and put man thereupon to stroll, live and be happy" - Carl Linnaeus
The first, the Taxonomy issue (PDF 1.6MB), features a range of articles looking at Linnaeus' legacy and how the 'Prince of Flowers' set up the naming process that allows us to understand the natural world in a systematic way.
He was also a true nature lover and was a controversial figure with many original ideas.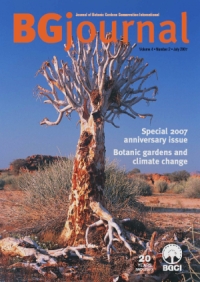 July 2007 - Botanic gardens and climate change

The second of the special editions is dealing with climate change (PDF 1.6MB) and how botanic gardens are finding solutions to the issues it raises.

Environmentalism is fashionable but still the value of maintaining plant diversity is not given the attention it deserves. Explaining the links between plant diversity, ecosystem functions and the global climate is a key role for botanic gardens.

BGCI is very grateful to the Rufford Maurice Laing Foundation for making the publication of these special issues possible.