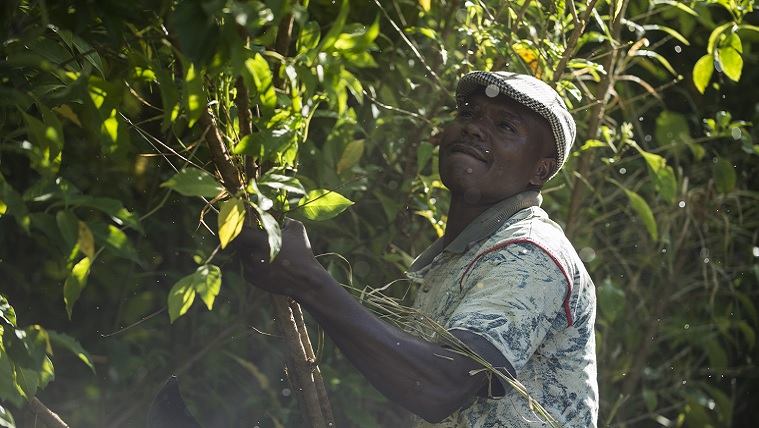 Kenya
BGCI collaborates with four main botanic gardens in Kenya; Brackenhurst Botanic Garden, the Nairobi Botanic Garden, African Forest and Multiplant International Medicinal Conservation. In addition, we are supporting the development of new botanic gardens, working with the East African Herbarium and other government bodies, as well as NGO and private sector partners.
Projects
BGCI currently has two active projects in Kenya, both contribute to BGCI's project Enhancing Tree Conservation and Forest Restoration in Africa.
Supporting forest restoration in Kenya - BGCI is supporting the tree conservation and forest restoration work of Brackenhurst Botanic Garden. Established in 2000, the garden has restored a 40ha area of indigenous forest incorporating a wide mix of native and threatened species. The forest demonstrates the benefits of restoration and monitoring is helping to identify top performing indigenous species. Propagation protocols are being developed for indigenous trees. Find out more about this project on the Global Trees Campaign website. Propagation protocols currently available are:
BGCI is fundraising to establish additional forest restoration plots with botanic garden and NGOs across Kenya. BGCI is a partner in the International Tree Foundation's Centenary Campaign: Twenty Million Trees For Kenya's Forests.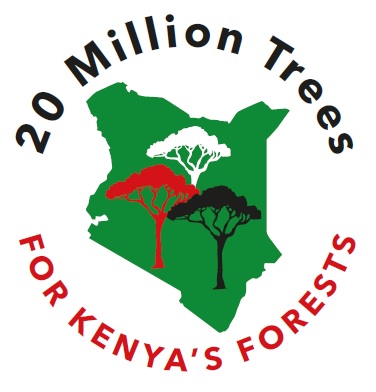 Conservation of priority tree species - A BGCI project with the East African Herbarium of the National Museum's of Kenya developed a list of national priority trees for Kenya, based on their threat status and utilisation. The East African Herbarium has developed collecting guides to enable conservation partners to collect seeds from identified priority species for ex situ conservation and restoration. The list will be published online soon. BGCI has raised funds for Kenyan partners to collect seed from 15 of the identified priority species in 2016.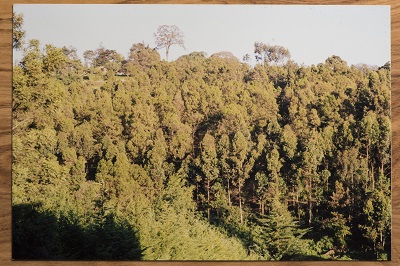 Eucalyptus plantation on site of Brackenhurst Botanic Garden before forest restoration work began, 2000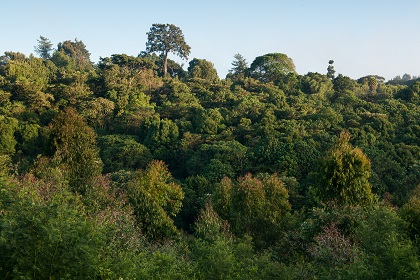 Restored indigenous forest at Brackenhurst Botanic Garden, 2013
Training
BGCI ran a training course in 2014 in Kenya focusing on tree seed collection, in collaboration with the Kenya Forestry Research Institute (KEFRI) and the Kew Millennium Seed Bank Partnership. The course taught best practice in seed collection, including how to sample for genetic diversity, how to avoid overharvesting, and how to process seed in the field to avoid loss of viability. Course participants became registered as official seed suppliers to KEFRI at the end of the training. A second course will be run in 2016. Read more about this training course here.
In March 2016 BGCI ran a training course on forest restoration in collaboration with Brackenhurst Botanic Garden, Multiplant International Medicinal Conservation, the Royal Botanic Gardens of Jordan and the Forest Restoration Research Unit - Chiang Mai, Thailand. The course was attended by 20 participants from botanic gardens in East Africa, NGOs carrying out tree planting or forest restoration projects in Kenya and government representatives. The course involved practical and theory sessions including on site assessment prior to planting, identification of appropriate species for restoration and monitoring. Read more about this training course on the Ecological Restoration Alliance of Botanic Gardens website.
BGCI is grateful for the support provided to our work in Kenya from the Ashden Trust, Fondation Franklinia and the Japan Biodiversity Fund.
If you are interested in collaboration or supporting the work of BGCI and our Kenyan partners please get in touch.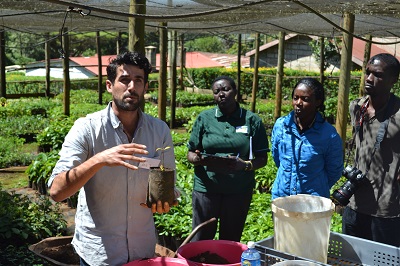 Forest restoration training course at Brackenhurst Botanic Garden, 2014
Propagation protocols
Propagation protocols are currently available for the following species: