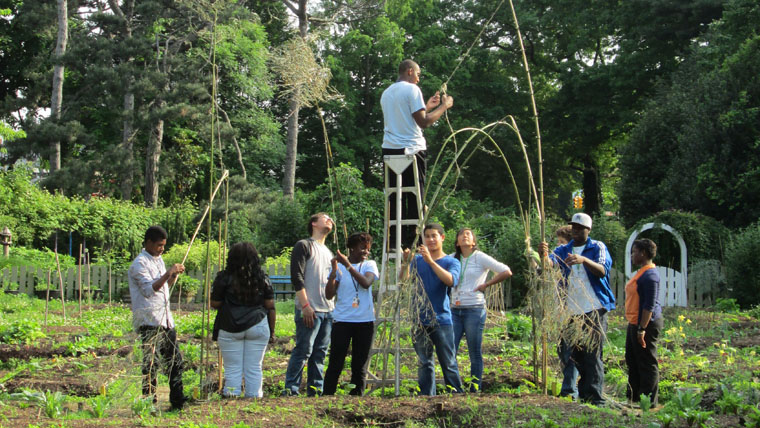 Communities in Nature Webinars
Held between May 2016 and January 2017, the Communities in Nature Webinars were an online training opportunity to help botanic gardens to grow their social role.
#1: Ian Edwards from Royal Botanic Garden Edinburgh: Making your garden accessible
During this webinar, Ian Edwards, Head of Public Engagement at Royal Botanic Garden Edinburgh discussed how they have broken down the barriers between them and some of their underrepresented audiences, these included mothers from disadvantaged areas, young adults and people with dementia.
#2: Theano Moussouri from University College London: Research and evaluation
This popular webinar was attended by botanic garden professionals from around the world, from Poland to the USA, Norway to Canada. The participants gathered to discuss new and exciting ways to carry out research and evaluation at botanic gardens.
#3: Jennifer Schwarz-Ballard from Chicago Botanic Garden: Embedding community work in your organisation

During this webinar Jennifer Schwarz-Ballard took us on a whistle-stop tour of the history of Chicago Botanic Garden's community work, some of their inspiring current projects, like Windy City Harvest and provided guidance on how to embed this type of activity in the work of a botanic garden.
#4: Sharon Willoughby and Nic Capp from Royal Botanic Gardens Victoria: Fundraising for community projects
Sharon and Nic together gave us important insights into fundraising based on their years of expirience in the area. As well as outlining the general approach to raising corporate and philanthropic money at Royal Botanic Gardens Victoria, there were cautionary tales and case studies related to where (and where not) to look for funding and how to maintain relationships.
#5: Nicky Boyd: Creative Evaluation Made Easy
Nicky's presentation provided insight into qualitative evaluation, including what evaluation can do, what to consider before you begin and how to plan evaluation. In addition to this Nicky shared a host of interesting and creative data gathering techniques to support organisations to embed evaluation into their activities.
Contact
If you have any questions about the webinars please contact the education team.