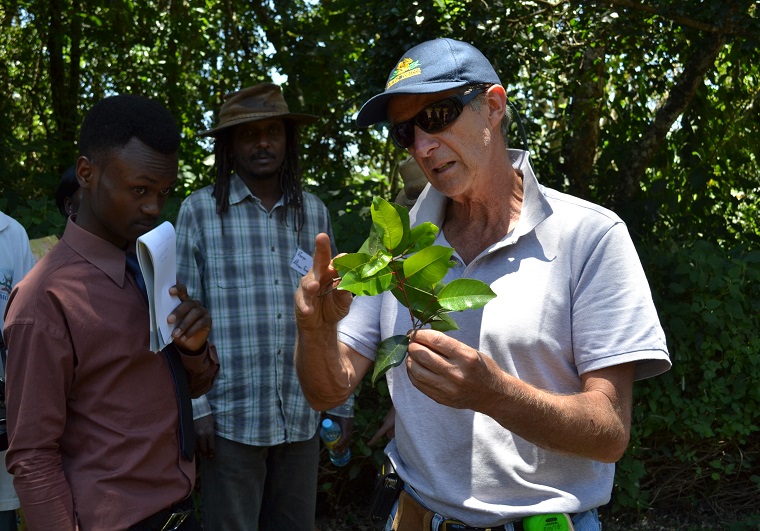 Tree conservation case studies
Working together with in-country partners, the Global Trees Campaign, safeguards populations of the worlds most threatened tree species through direct, practical and innovative interventions. GTC is committed to science-based tree conservation, trialling novel approaches, and sharing information and resources to ensure our projects provide inspiration and guidence to conservation practitioners worldwide.
Below are a sample of BGCI's Global Trees Campaign projects. Further projects and more information, can be found on the GTC website.
| | |
| --- | --- |
| | Training local communities to conserve threatened camellias, China. Habitat loss and the extraction seedlings from the wild for horticultural use are responsible for the decline of several species of camellia in Guangxi, southern China. GTC in collaboration with Guilin Botanic Garden of the Guilin Institute of Botany is training local people to cultivate these threatened camellias for both reinforcing native populations and producing plants to be sold through the horticultural trade. This project has reduced extraction of seedlings from wild camellia populations, and is improving the livelihoods of local communities by providing a secure source of income. |
| | A Global Action Plan for the conservation of threatened Zelkova species. The Natural History Museum Fribourg and the Botanic Garden of the University of Fribourg, in collaboration with in-country partners, BGCI and the GTC, launched Project Zelkova in 2010 to review existing information and gather new data for the development of an integrated strategy to conserve species in the genus Zelkova. This relict genus includes trees which are among the most rare and endangered in the world. This Global Action Plan describes a number of specific priority actions for each species, including further survey work, in and ex situ conservation, regional and international research partnerships, networking and enhanced public outreach. |
| | Save our cedar, Malawi. Malawi's national tree, the Mulanje cedar, grows naturally only on the top of Mulanje Mountain. It is Critically Endangered due to over-exploitation and fire. Working with partners in Malawi and drawing from expertise within BGCIs network, we are working to restore populations of Mulanje cedar on the mountain. Ten community nurseries have been set up around the base of the mountain to propagate a supply of seedlings, which will be used to restore natural populations. |
| | Hunting for the rare birch, Betula chichibuensis, in Japan. The Chichibu birch, Betula chichibuensis, is found only in the Chichibu Province of Japan. This species grows on limestone outcrops occurring sporadically throughout the mountains of Chichibu. Working with the University of Tokyo Forests and the University of Oxford Botanic Garden and Arboretum, the GTC visited recently discovered populations of this species to collect seed. The seed has been shared among botanic gardens to establish living conservation collections and has also been sent to the Royal Botanic Gardens, Kew's Millennium Seed Bank for long-term storage |
| | |