Global Conservation Consortium for Magnolia
The Global Conservation Consortium for Magnolia has been established to ensure that no wild species of Magnolia becomes extinct.
Background
Comprising more than 300 species, magnolias are widely appreciated around the world for their ornamental qualities and as sources of medicine and timber. However, many are also in peril. Published in 2016, The Red List of Magnoliaceae concluded that 47% of Magnolia species are threatened with extinction in the wild. Vast numbers of species are subject to habitat destruction, overharvesting and low natural regeneration.
There are more than 140 threatened species and only 36% of these are found in ex situ collections. This figure is well below Target 8 of the Global Strategy for Plant Conservation, which calls for 75% of threatened plants to be held in ex situ collections.
Whilst there is work to protect some Magnolia species, many more are in need of conservation action. Species identified as at risk of extinction require plans to ensure that they not only survive but are resilient to the threats they face. This involves the protection of threatened wild populations of plants in their natural habitats and ex situ conservation in botanic gardens and seed banks.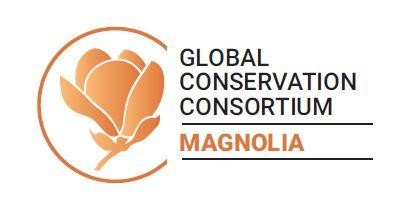 A Global Conservation Consortium for Magnolia
To address these threats, the Global Conservation Consortium for Magnolia (GCCM) has been established to ensure that no wild species of Magnolia becomes extinct. Lead by Atlanta Botanical Garden, The GCCM brings together the world's Magnolia experts, conservationists and the botanic garden community to achieve the following objectives:
Foster new and existing networks of Magnolia experts

Identify

Magnolia

species of greatest conservation concern and prioritize conservation action

Ensure effective in situ M

agnolia

species conservation

Establish and manage coordinated ex situ M

agnolia

collections of high conservation value 

Foster applied research (e.g. conservation biology, ecology, horticulture, population genetics, taxonomy) to support Magnolia species conservation

Build capacity to empower and mobilize in-country partners

in diversity centres and across Magnolia species' ranges
Increase public awareness and engagement with Magnolia species conservation issues
Collaboratively fund raise to scale-up Magnolia conservation action
Current GCCM projects include:
Carrying out IUCN Red List assessments for previously unassessed and newly described species and identifying Data Deficient species for study and reassessment
An accession-level ex situ gap analysis to identify species of conservation concern is also in progress and due for publication in 2021.
Please fill out this form if you are interested in joining the GCCM. See the Consortium Roles and Responsibilities document for more information about the levels of involvement.
Find out more about the GCCM via these recorded kickoff meetings held in September 2020
For more information about the GCCM please contact Jean Linsky, GCCM Coordinator, or Emily Coffey, Vice President of Conservation and Research, Atlanta Botanical Garden.
Become a Member
Be part of the largest network of botanic gardens and plant conservation experts in the world by joining BGCI today!
Support BGCI
You can support our plant conservation efforts by sponsoring membership for small botanic gardens, contributing to the Global Botanic Garden Fund, and more!