Global Conservation Consortium for Dipterocarps
The Global Conservation Consortium for Dipterocarps brings together the world's Dipterocarp experts, conservationists, and the botanic garden community to ensure that no wild Dipterocarp species becomes extinct
Background
The Dipterocarpaceae family has 17 genera and around 680 known species of mainly tropical, lowland rainforest trees. Dipterocarps are mostly large, emergent trees, with greatest diversity in Borneo and SE Asia, though species are also found in tropical Africa and South America. They can be evergreen or deciduous and occur in a wide variety of habitats including lowland forests, coastal forests, limestone hills and savannas, reaching a maximum elevation of around 1300 m in Thailand.
Most dipterocarps produce valuable timber, which has resulted in extensive logging and many species are highly threatened in the wild due to habitat conversion, agriculture and urbanisation. Several also produce resins for which trees are sometimes harvested. Currently, 127 species are listed as Critically Endangered on the IUCN Red List, with a further 139 species assessed as Endangered. One species, Hopea shingkeng, is known to have recently gone extinct.
Dipterocarp seeds are recalcitrant, meaning that they cannot be banked via conventional methods and thus ex situ living collections are of vital importance for conservation. Much work has already been done to conserve and study the family and several initiatives have been successfully established, including projects undertaken as part of the Global Trees Campaign and Southeast Asia Botanic Gardens (SEABG) Network.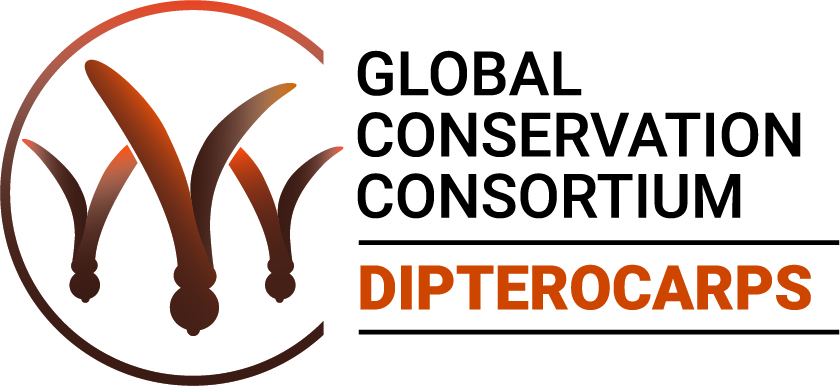 A Global Conservation Consortium for Dipterocarps
Building on previous and existing work, and to further address the conservation needs of dipterocarps, the Global Conservation Consortium for Dipterocarps (GCCD) coordinates collaborative work on all aspects of conservation and will also focus on applied research in areas including phylogenomics, ecology, conservation genetics, tissue culture and cryopreservation. The consortium also encourages exchange of both material and data which are vital for the advancement of knowledge informing conservation strategies. The consortium will be lead by Xishuangbanna Tropical Botanical Garden, Chinese Academy of Sciences and will work in a coordinated and collaborative way to achieve the following objectives:
Foster new and existing networks of Dipterocarp experts

Identify Dipterocarp

species of greatest conservation concern and prioritize conservation action

Ensure effective in situ Dipterocarp

species conservation

Establish and manage coordinated ex situ Dipterocarp

collections of high conservation value 

Foster applied research (e.g. conservation biology, ecology, horticulture, population genetics, taxonomy) to support Dipterocarp species conservation

Build capacity to empower and mobilize in-country partners

in diversity centres and across Dipterocarp species' ranges

Increase public awareness and engagement with Dipterocarp species conservation issues

Collaboratively fund raise to scale-up Dipterocarp conservation action
For more information about the consortium please contact Sven Landrein or Dan Crowley.