Global Conservation Consortium for Acer
The overriding aim of the Global Conservation Consortium for Acer is to ensure that no wild species of Acer becomes extinct.
Background
Maples (from the genus Acer) are among our most iconic trees. One of the largest tree genera in the Northern Hemisphere, they are hugely popular as ornamentals in parks, gardens and open spaces, with varied shapes and attractive leaf forms suited to nearly every temperate growing situation. They are also a prime subject of the autumnal pastime of 'leaf peeping', as their spectacular seasonal colour displays are sought out by thousands of nature lovers across the temperate world. Maples are also the source of maple syrup, an important industry and the favourite pancake topping choice of many. However, a report published in September 2020 by Botanic Gardens Conservation International (BGCI) reveals that one in five maple species are at high risk of extinction in the near future and in need of conservation action, with 75% of these threatened species geographically restricted in their native ranges.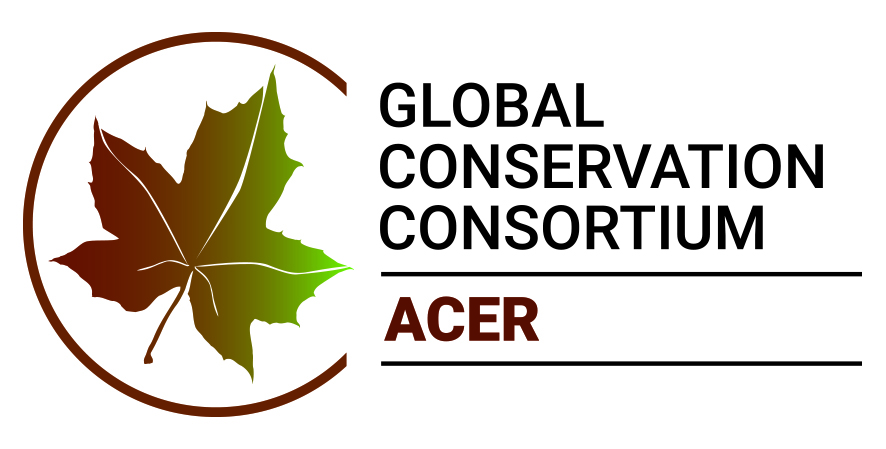 A Global Conservation Consortium for Acer
To address the conservation needs of the genus, the Global Conservation Consortium for Acer (GCCA) is working to ensure that no wild maple species becomes extinct. Led by UBC Botanical Garden, at the University of British Columbia – Vancouver, Canada, the GCCA is bringing together the world's maple experts to achieve the following objectives:
Foster new and existing networks of Acer experts
Identify Acer

species of greatest conservation concern and prioritize conservation action

Ensure effective in situ Acer

species conservation

Establish and manage coordinated ex situ Acer species

collections of high conservation value 

Foster applied research (e.g. conservation biology, ecology, horticulture, population genetics, taxonomy) to support Acer species conservation

Build capacity to empower and mobilize in-country partners

in diversity centres and across Acer species' ranges
Increase public awareness and engagement with Acer species conservation issues
Collaboratively fund raise to scale-up Acer species conservation action
Using the Red List of Acer as the baseline for its work, current GCCA work includes producing a comprehensive, accession-level gap analysis of threatened maples held in ex situ living collections globally, to inform prioritisation for targeting species for ex situ conservation. With maple species producing seeds that cannot normally be stored long-term by conventional means, it is essential that species are conserved both in the wild and in living collections.
For more information about the GCCA please contact Dan Crowley.
Become a Member
Be part of the largest network of botanic gardens and plant conservation experts in the world by joining BGCI today!
Calling all Experts
As a membership benefit exclusively for BGCI Institutional Members, staff associated with these institutions can apply for inclusion in BGCI's Directory of Expertise.