New support for BGCI's work in Africa
24 October 2011
BGCI has received a new donation for its work in Africa. The donation, from the Forestry Bureau, Council of Agriculture in Taiwan will help to support the tree conservation work we are carrying out in the framework of the project 'Grow Africa'. The project, which is also supported by the Rufford Foundation, focuses on the conservation of endangered African tree species through their use in reforestation and restoration programmes.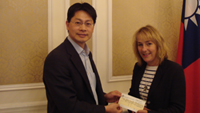 Sara Oldfield, BGCI's Secretary General recently received the cheque from Andrew Lee, the Director of Public Affairs at the Taipei Representative Office in the U.K.

Previous support from the Taiwanese Forestry Bureau has allowed us to develop a Chinese version of our climate change educational resources and a Guide to the Global Strategy for Plant Conservation (presently under development).

BGCI is most grateful for the support provided by the Forestry Bureau.