East African biodiversity hot spots need trained local botanists
30 April 2010
Botanical research and its practical application is critical to solve today's environmental problems, especially in East Africa which contains many biodiversity hotspots.
Missouri Botanical Garden are seeking scholarships and grants for talented botanist Canisius J. Kayombo to complete his bachelor's degree in botanical science. The purpose of his degree is to provide local leadership in conservation efforts.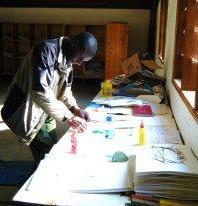 For twenty years, Canisius has worked for both private and state organisations in the field of botanical research. For the last ten years, he has been a research assistant, field supervisor, and field botanist/botanical technician at the National Herbarium of Tanzania; and a botanical instructor in charge of the nursery, arboreta, and the curator of the herbarium at the Tanzania Olmotonyi Forestry Training Institute. He has authored and coauthored numerous studies of East African plants that have been published in local journals and presented internationally.

You can find out more by following this link to Canisius's page on the Missouri Botanical garden website, which details his extensive botanical experience, publications and several years with the Missouri Botanical Garden. The website contains a link to PayPal. We need 800 contributions at $25 each to fund his education.