Thieves cause damage to Adelaide Botanic Garden
7 August 2009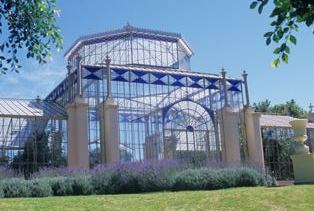 The palm house at Adelaide Botanic Gardens
Thieves have driven a stolen earthmover through Adelaide's Botanic Gardens, crashing into the cafe, garden beds, archways and seating.
Police say the excavator was stolen from a construction side near the gardens at about 2:00am ACST.
The earthmover ended up at the cafe, damaging the roof, roof supports and smashing windows. Authorities estimate there is a damage bill of about AU$30,000. There is also graffiti on the cactus house.
Botanic Gardens director Stephen Forbes says staff are disappointed: "When they come in at seven o'clock in the morning they don't anticipate fixing up something that wasn't there yesterday. They're disappointed," he said. "I've spoken to a number of staff this morning - their attitude's probably the same as mine. You have to be a bit stoic about it and get on with it. Just disappointed."
Chris Goold, from the company which owns the earthmover and others at the construction site said: "They just tried to obviously stick a screwdriver or something in to start the machines up, so they couldn't get in. They tried them all. They only got one started so not much damage. It's all a bit of graffiti but mainly the ignitions where they've tried to start all the machines."