Canada's botanic gardens network meets to discuss plant conservation
15 December 2008
On 27th and 28th November 2008, representatives of the Canadian Botanical Conservation Network (CBCN) and the Canadian Botanical Gardens Educators Network met at Royal Botanical Gardens (RBG; Hamilton and Burlington, Ontario). The overall goal of the meeting was to contribute to Canada's national response to the Global Strategy for Plant Conservation (GSPC) and to exchange information and ideas for the community.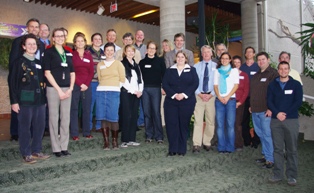 Twenty-eight people gathered from a wide range of organisations spread across Canada: BGCI, Canadian Forest Service, Devonian Botanic Garden, Environment Canada, Canadian Museum of Nature, Toronto Zoo, RBG, McMaster University, Niagara Parks Botanical Gardens, University of Guelph Arboretum, VanDusen Botanical Garden, Montreal Botanical Garden, IUCN, University of British Columbia Botanical Garden, Memorial University, Ottawa Botanical Garden Society, Reford Gardens, Harriet Irving Botanical Gardens and Columbia Valley Botanical Gardens were all represented.
The conference participants relished the opportunity to gather and share experiences about the various plant conservation initiatives that their institutions are involved in. Some of the more controversial topics discussed include assisted migration and climate change. One common thread throughout was the importance of botanical gardens and associated organisations as sources of leadership and education for the rest of the country. The attendees also discussed planning for celebrations for the 2010 International Year of Biodiversity. On Friday 28 November CBCN held its annual business meeting as part of the overall event.
The organisers would like to thank Royal Botanical Gardens for hosting the meeting, Environment Canada which kindly supported travel for many of the participants, and the participants themselves for their time, energy and ideas.
For more information please visit the CBCN website http://www.rbg.ca/cbcn/en/ or contact Dr. David Galbraith at dgalbraith@rbg.ca