Oman Botanic Garden shifts 50,000 plants to their new home
OMAN
18 July 2008
Question – how do you move 50,000 plants, including many rare and endangered species from two temporary facilities to a cutting-edge nursery in the desert? This is the challenge that the horticultural team at the Oman Botanic Garden has had to find answer for themselves over the last couple of weeks.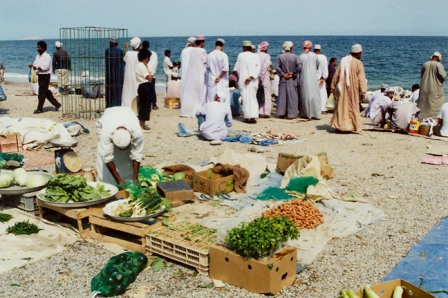 Busy market selling fresh produce near Muscat in Oman.
Picture: Galen Frysinger and Vladia Jurcova
OBG's new nursery facility on the garden site, is in the final stages of construction, and after five months of digging, drilling, construction and creation, the state-of-the-art facility was ready to become the new home of the garden's precious collection of young plants.
"It was getting urgent, we were running out of space at our temporary nurseries in Barka and Seeb, the collection was growing faster than we could manage" says Khalid Al Farsi, horticultural specialist at the garden "Our plants are delicate, so we had to be extremely careful moving them".
Sixty truck-loads and 120 hours later, with 20 OBG staff and 25 carefully briefed construction workers provided by Carillion Alawi, the nursery construction company, the final plants made it to the nursery on Saturday 28th June and are settling in. "The nursery is an amazing facility, with high-tech computer controlled systems looking after irrigation, temperature and humidity. One of the challenges of this garden is that it is so different; no one has done this before with Omani plants, so we are experimenting and learning every day. Everything we have gained so far will help us create a wonderful garden", Al Farsi added.
Another benefit of the plants all being in one place is that the project's horticulturalists, botanists and horticultural assistants are under the same roof for the first time since the project began as well. "It is so much better being able to work together caring for and researching our plants and seeing each other every day. It makes me feel like we are much more of a team," said Ismail Al Rashdi, horticultural specialist "Now we can build and nurture the plant collection more efficiently".