Community Projects save the cactus in Mexico
20 June 2008

A successful community based cactus conservation project has been set up in Queretaro State in Mexico. The project, involving local school children, was set up in response to the identification of five threatened species of cactus in the semi-arid Bellavista del Rio region of Queretaro.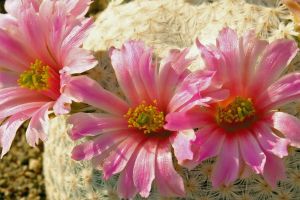 A saved flowering cactus.


This region has a rich diversity of cactus but as a result of a variety of factors this diversity is being threatened. Ecological factors such as reduced geographical distribution, low population densities and high environmental specificity combined with human factors such as intensive land use, plundering of cactus and other fauna and the development of roads and dams in the area has left the survival of many cactus species in jeopardy.

The Cadereyta Botanical Gardens have implemented a conservation project to protect the future of five of the particularly threatened species, including the iconic Mammillaria herrerae (golf ball cactus) which is taken from its natural environment for use as an ornamental plant. A greenhouse was specifically built for the housing of the five species of cactus in the gardens.

The project has a strong community feel to it, with five local high school students selected to be the main participants in the continuing care of the cactus. The students all came from families who were involved in the illegal gathering of the cactus.

The project was named, 'Las Tres Que Tu Eres', meaning the three 'R' project. The three R's standing for: recognise, reproduce and recuperate. Once the students had become familiar with the plants each member was given a particular plant that they would be responsible for. After the initial set up of the project the students then became fully responsible for the propagation of their species. The results were excellent, with the numbers surpassing what was originally planned.

As well as the conservation project there was an educational programme set up to boost the profile of cactus conservation. Visitors to the gardens were given leaflets highlighting conservation efforts. Local authorities were given information and invited to the opening of the projects and the students were twice interviewed on local television.

The programme hopes to increase the number of species in the project in the future. It is also hoped that reproducing the plants in this controlled environment will possibly lead commercial ventures with plants no longer needing to be collected from their natural environment.