The Paul Jovet Botanical Garden opens its doors
29 May 2008
The new wetland area at the Paul Jovet Garden.


After 20 years of dreaming and planning the Paul Jovet Botanical Garden in Saint-Jean-de-Luz, France opened its doors to the public for the first time. On 22 March 2008 around 300 visitors gathered for the opening day, participating in guided tours and workshops.

This unique 2.5 hectare garden is located on a rocky cliff top 50m above the Atlantic Ocean in the south-west of France. Well-known French botanist Paul Jovet first imagined a protected area here in the 1980's. The garden was designed in 1991 and, after a long wait, finally created over the last five years. It provides a sanctuary for the local flora which was becoming increasingly threatened by the encroaching human development in the area.

The garden displays a wide range of plant habitats vital for the protection of local flora. It extends to the coastal shore and cliffs, providing a haven for these delicate ecosystems. There are also indigenous pine and oak forests and wetland areas. Collections of perennials, shrubs and trees from around the world, which are able to cope with the tough climate, are also kept in the gardens.

Les Amis du Jardin botanique littoral Paul Jovet is the association that runs the garden. It has 160 members and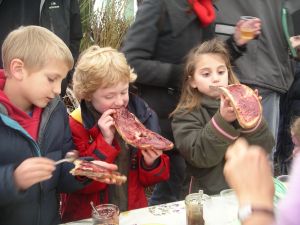 Wow, that's a big piece of bread! Children enjoy the
opening day festivities.
many of these take a hands-on approach in developing and maintaining the garden. There is a strong focus on using Basque language in all signage to try and preserve the local culture as well as the local flora.

The gardens run education programmes for schools and have partnerships with universities. The education programme fits into the French curriculum which now includes sustainable development. It also encourages students to get involved with plant conservation and being able to identify local flora.




For more information visit www.jardinbotaniquelittoral-saintjeandeluz.org/