Get Snapping for the International Garden Photographer of the Year
22 April 2008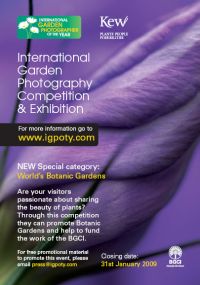 'World Botanic Garden' is a new categoryfor the 2009 International GardenPhotographer of the Year
BGCI is excited to announce that a new category has been created for the International Garden Photographer of the Year competition. One of seven categories, 'World Botanic Garden' is intended to capture the essence of what makes a botanic garden.
In return for promoting the competition, through botanic gardens worldwide, BGCI will receive 10% of the revenue raised through the entries to the 'World Botanic Garden category'. Funds raised will be used for our work in environmental education in botanic gardens through training, workshops and conferences.
The competition is open to everyone, amateurs and professionals alike. Entries are welcome from any country in the world and there are no restrictions on the type of camera used, or the techniques used to produce the final image.
There are a fantastic range of cash and other prizes available to winners and to runners-up, together with the unique prize of having a photograph exhibited in a special exhibition at the Royal Botanic Gardens, Kew.
So get snapping and support BGCI's work by promoting this competition as widely as possible to your visiting public and through your networks.
For detailed information about the competition and how to enter please visit www.igpoty.com. To download an A4 sized competition poster promoting the 'World Botanic Garden' category click here (2.21 MB).