Noah's Ark of Tropical Plants established in Taiwan
TAIWAN
30 January 2008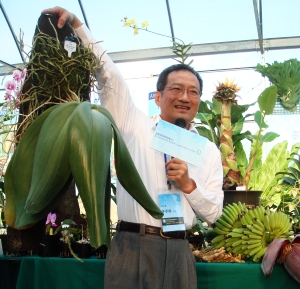 Dr Chia-Wei Li holds up a huge Bulbophyllum orchid

The Dr. Cecilia Koo Botanic Conservation Center was launched on January 19, 2008. About 250 guests attended the intimate opening ceremony, which was held in a spacious plant house at the Conservation Center in Pintung, Southern Taiwan.
Twenty Years of Security for Threatened Plants

The mission of the institution is: "To conserve tropical and sub-tropical plants in order to sustain the richest biodiversity on Earth". Ultimately, the Conservation Center aims to supply plants for reintroduction into the wild.
The idea of establishing this "Noah's Ark" was originally conceived by Dr. Li Chia-Wei, renowned paleo-biologist and former director of the National Museum of Natural Science. Dr. Li shared his vision and dream with Mr. Leslie Koo, Chairman of the Taiwan Cement Corporation, whose family set up a Botanic Foundation to fund the Center for the first twenty years. At the time, there was no available land for the Center, but Mr. Koo's mother Cecilia generously offered a farm property in Pintung for the Center. Her late husband Mr. Chen-Fu Koo, former Chairman of the Tawian Cement Corporation, was keen on environmental conservation, which is a theme of the Corporation's social responsibility programmes.
Thirteen Plant Groups
The collections will focus on thirteen plant groups: Orchidaceae, Palms, Asclepiadaceae, Pteridophytes, Musaceae, Theaceae, Heliconiaceae, Bromeliaceae, Araceae, Marantaceae, Zingiberaceae, Gesneriaceae, and Begoniaceae.
Although accessions of wild provenance will be preferred, commonly cultivated species will also be included, because over time, species fall out of favour in the horticulture trade and then "disappear" and are often lost. In respect to this, cultivars will also be included in the collections, especially those whose parents are rare or extinct.
Research and Education
While the primary aim of the collections is conservation, two secondary goals include research and education. Scientists will be invited to use the living collections for their research, once laboratory facilities are constructed. School teachers will be given access for tours and other activities upon request. The collections will not be open to the public.
Currently, the Center has four large plant houses that contain 4,600 taxa, including more than half of Taiwan's native plant species. Plans are underway to expand the current 6,500 square meters of shade house by 3,000 square meters a year during the next ten years.

More Articles