Hard Rain Falls in Botanic Gardens All Over the World
GLOBAL
20 December 2007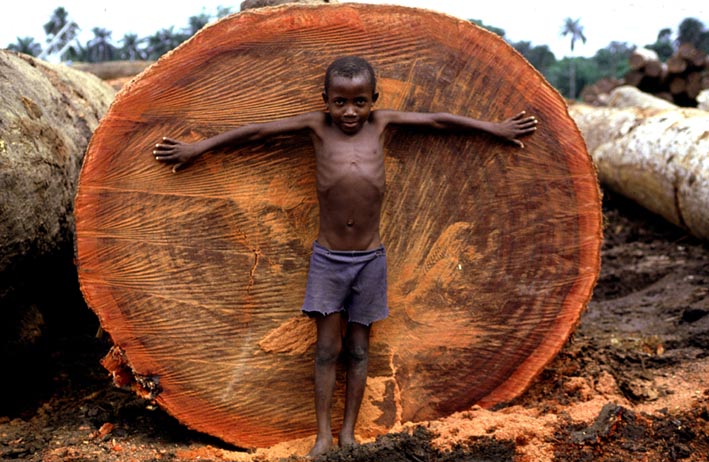 Deforestation Nigeria Child in front of ironwood tree trunk.
Mark Edwards/ Still Pictures
Bob Dylan's haunting lyrics have inspired a photo reportage book, illustrating some of the worlds major issues, including pollution, climate change, poverty and human rights. The book's author Mark Edwards, has developed an outdoor exhibition, slide show and talks which have been touring botanic gardens around the world - have a look at the garden reports (using the links below) to see how it was received by their visitors. Initially launched at the Eden Project in the UK in 2006, the exhibition has since been displayed in:
Other hosts include the Royal Tasmanian Botanical Gardens, Australia, Wildfowl and Wetland Trust centres throughout the UK, museums and festivals. Early 2008 will see the exhibition displayed in SANBI (South African National Biodiversity Institute) gardens; Kirstenbosch National Botanical Garden, Cape Town, Pretoria National Botanical Garden and Walter Sisulu National Botanical Garden, Johannesburg.
An expanded second edition of the book has also been released with four new chapters; No Time for Denial by Jonathon Porritt; Hard Choices by Robert May; Beware the Climate Fixers by John Elkington and Geoff Lye and Changing Consciousness by David Bohm as well as a new photo essay by Mark Edwards with over 50 new photographs.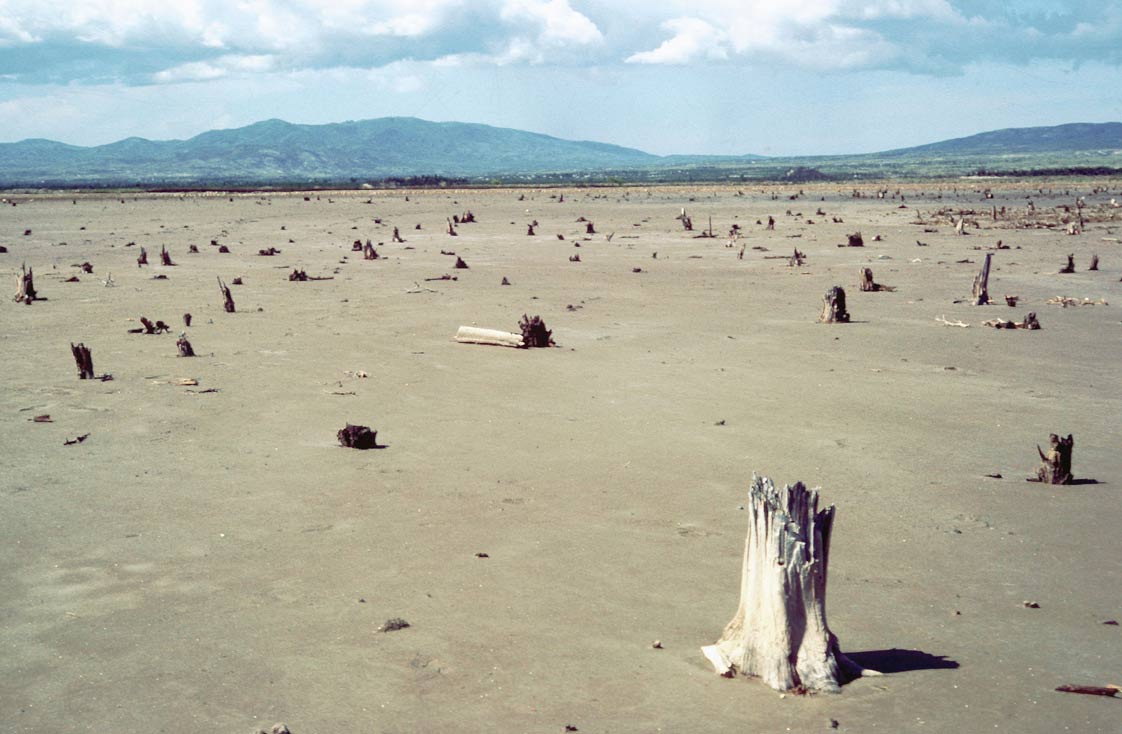 "I've stepped in the middle of seven sad forests"
Since 1960, some 98 per cent of Haiti's forests have been cut down for charcoal cooking fuel.
Mark Edwards/Still Pictures
A copy of Hard Rain is being sent to every prime minister and president in the world with a request that they outline their policies regarding the problems illustrated in Hard Rain, and asking that they suggest existing "living solutions" from their country that could be adopted more widely.
An accompanying picture show is also on offer; Mark says "The Hard Rain Picture Show takes audiences on a journey through rainforests, man-made deserts, inside shantytowns and peasant villages and into communities of indigenous people living in the most remote habitats on earth. It is not another travelogue or an exercise in hand-wringing. The presentation takes us face to face with our problems and the solutions hidden inside the issues that define the 21st century."
The Hard Rain Project are looking for additional hosts to display the exhibition and slide show presentations. For more information about the exhibition, and how to contact the team if your garden or site would like to host it and details of the itinerary, see the Hard Rain website, www.hardrainproject.com or contact Mark Edwards, markedwards@stillpictures.com