Farewell and Thanks for All the Botany
BGCI
19 September 2007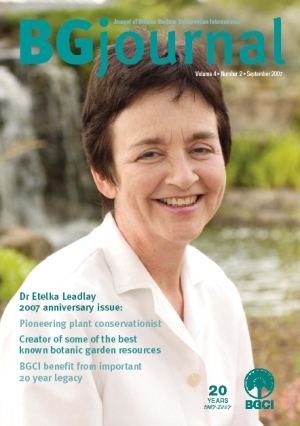 Etelka Leadlay has made a massive


contribution to the life and success of
BGCI since its inception 20 years ago
BGCI last week waved a sad farewell to Dr Etelka Leadlay.
Retiring after 20 years service, Telka has been with BGCI since its very inception, forming part of a close-knit team that has taken it from a small secretariat to the world's largest plant conservation network.
During her time she has been an inspiration to all at BGCI and its partners across the world. With her singular dedication, enormous passion and unfailing good humour, she will be sorely missed by all of us.

An Exceptional Legacy
Telka was the principle editor of BGjournal (previously Botanic Gardens Conservation News) and worked on it for 15 years. BGjournal is the only worldwide journal of botanic garden conservation and continues to be a vital resource for botanic gardens highlighting plant conservation best practice, strategies, and case studies. Her legacy is retained in the Journal Archives on our website
Telka conceived, project managed and edited the Darwin Technical Manual in collaboration with 87 people from 22 countries. This resource has proved to be invaluable for anyone wanting to set up and run a botanic garden.
Telka has been the key person for organising several of BGCI's world congresses, liaising with hundreds of members about their contributions and scheduling the scientific programmes. BGCI's latest congress in Wuhan, China, was our largest congress yet with almost 1,000 participants!
Until recently, Telka coordinated BGCI's volunteer programme, enabling our work to benefit from the skills of people willing to donate their valuable time.
Telka has given innumerable talks about botanic gardens and plant conservation to a wide range of people around the world. She has fronted BGCI desks at many public venues, always keen to meet and talk with members about their gardens and plant conservation. Telka's knowledge in BGCI about botanic gardens and members is second-to-none.

In 2006, her book Taxonomy and Plant Conservation was published. Telka co-edited this book with Stephen Jury, Herbarium Curator for the University of Reading which illustrates the key role played by taxonomy in the conservation and sustainable utilisation of plant biodiversity. Although not a BGCI project, many of the contributors to the book have and continue to work closely with BGCI.
Telka is an ardent supporter of botanic gardens and plant conservation and we want to acknowledge her for 20 years of solid commitment to the work of BGCI.
Tributes from Leading Lights of Botanic Gardens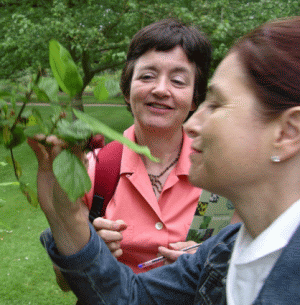 Telka's contribution to plant conservation and her support for the work of BGCI and botanic gardens around the world is best summed up by these tributes from her friends and colleagues:
"Telka, you and your work with BGCI always represented part of the fundamental and solid foundations of the organization. Your dedication and loyalty to BGCI, through years of lean and plenty, were so important in helping to ensure that the organization never wavered from its role of service to botanic gardens worldwide and its mission in support of plant diversity."
Peter Wyse Jackson – Director, National Botanic Gardens, Ireland
"I admired that you always gave your time to answer, send letters of support, corroborate our doubts and send us information. It seems to be little things, but for us they were key to improving our understanding and giving us the tools to convince our authorities."
Edelmira Linares and Robert Bye, UNAM Botanic Garden, Mexico City

"Telka will be sorely missed by us all; she has been a great champion of conservation in botanic gardens and she has made a real difference to the botanic garden community. Her contribution to improving communication has been colossal."
Timothy Walker, Director, University of Oxford Botanic Garden & Harcourt Arboretum
Thanks Telka!
Before leaving last week Etelka told us she was plannig to 'soak' for a couple of months but no doubt she will be in regular contact with all the friends she has made in the botanic gardens world.
All her friends at BGCI and beyond wish her the very best of happiness for a long and mellow retirement - and a jolly good soak!