2007 Red List: Extinction Crisis Deepening
GLOBAL
12 September 2007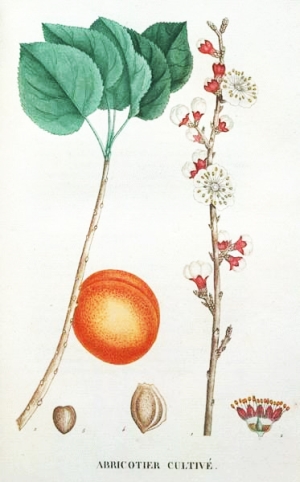 The wild ancestor of the apricot is now classed
as Endangered
Image from Botanic.com
The World Conservation Union's (IUCN) Red List 2007 has just been published - and there's a lot of bad news.
Floral Fortunes
There are now 12,043 plants on the IUCN Red List, with 8,447 listed as threatened. That's 70% of the plant species.

The Woolly-stalked Begonia (Begonia eiromischa) is the only species to have been declared extinct this year. This Malaysian herb is only known from collections made in 1886 and 1898 on Penang Island. Extensive searches of nearby forests have failed to reveal any specimens in the last 100 years.
IUCN have declared many other species, such as the Chinese River Dolphin, as Possibly Extinct but they are taking an extremely conservative policy before making declarations of extinction.
Still a Chance to Save...
The Wild Apricot (Armeniaca vulgaris), from central Asia, has been assessed and added to the IUCN Red List for the first time, classified as Endangered. The species is a direct ancestor of plants that are widely cultivated in many countries around the world, but its population is dwindling as it loses habitat to tourist developments and is exploited for wood, food and genetic material.
This highlights the issue of the conservation of Crop Wild Relatives - something that BGCI have been involved in promoting because wild crop relatives are storehouses of vital genetic resources.
Nearly 200 of the 1500 native plant species in Hawaii are at risk of going extinct in the near furture because they have been reduced to such low numbers. Read more

Going Up, Going Down
IUCN has so far assessed 41000 of the world's species.
"The number of threatened species is continuing to go up, and we are seeing very few success stories," warns Craig Hilton-Taylor, manager of the Red List, which was updated on 12 September.
In previous years, the update has involved a handful of "good news" stories of species that are found to be less endangered than the year before. In 2007, there is only one such story, that of the Mauritius echo parakeet (Psittacula eques).
Lessons Learnt
The example of the Mauritius parakeet is a positive story that can help other conservationists learn and hopefully, get other species back from the brink. Part of the recovery plan involved plant and habitat conservation with the Royal Botanic Gardens, Kew as part of the team.

We can also learn from the disappointments of cases such as the Chinese River Dolphin.
BGCI is actively involved in Red Listing, with the publication of the Magnoliaceae list earlier this year and ongoing research into other plant groups.
Take Action