Growing Garden Guides in the Philippines
15 August 2007
Siit Arboretum and Botanical Garden hosted a two day guide training course earlier this month in partnership with BGCI.
The arboretum is developing its education programme for schools using guides to lead classes around the diverse and lush site, exploring the importance of plants, the need for their conservation and, vitally, how individual consumer choices can impact on the environment.
Course participants proudly display their creative talents
Eric Hanquinet, the chair of Siit's council provided an exemplar 'bad' guided walk, helping participants identify what not to do and stimulating discussion of the key principles of sharing sites with visitors. The group explored basic interpretation techniques, guided walk design, health and safety, leading skills and learning styles before developing their own walks. Participants used the 'praise sandwich' approach to evaluate each other's walks and provide constructive comments on techniques and improvements.
Participants enjoyed the sessions, particularly learning environmental games and creative activities to use with schools groups as part of a visit; 'I've learned so many things here, like how to handle the visitors, what are those enjoyable things that makes the visitor love to go back to our place and the strategy of being a good tour guide', 'I learned to appreciate and love mother nature and how to conduct guided tours, and use artwork and games to stimulate interest'.
Sarah Kneebone, BGCI's Education Officer and course facilitator said 'In preparing the course I was fortunate to receive a huge amount of help from experts at other gardens which already run highly successful and effective guide programmes.'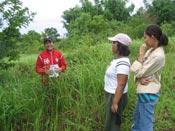 Practising their skills - Earl, Lin and Christine at Siit Arboretum
Many thanks go to Donna Osland, Martin Clement and Barbara Boyle for their help in developing the course and sharing their techniques with BGCI. Donna, at Royal Botanic Gardens, Sydney uses a very dedicated volunteer guide team to run programmes on many different subjects. Each new guide is encouraged to work closely with the more experienced team members and learn from them to develop new themes and ideas for talks.
Barbara, at Royal Botanic Gardens, Kew runs an intensive training course over 3 months introducing guides to many aspects of the garden's work and key techniques, such as voice projection and presentation skills. Martin's guides at Durban Botanic Garden pass a formal assessment guided walk, professional interview and presentation of the guide's portfolio of evidence to achieve a recognised guide qualification.
For more information on running guided tours, have a look at 'Making Your Garden come alive; Environmental Interpretation in Botanical Gardens' or use 'Search this Site'- at the top right of the screen.