Boost for Bamboo Conservation
AMERICAS
8 August 2007
Two researchers, one from Peru and another from Brazil, have awards to pursue their studies into bamboos.
Discovering Aulonomia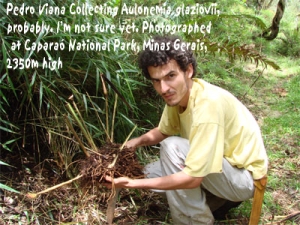 Pedro Viana will revise the Brazilian Aulonomia (10 spp.) for his doctorate research and will collaborate with Dr. E. Judziewicz in a complete revision of the genus. The project is a key part of the revision of the genus Aulenemia comprised of 37 known species and likely other undescribed species.
Little is known about the conservation status of Brazilian Aulonemia and Viana states that only A. effusa has been listed as endangered in Minas Gerais, the only place where it has been collected.
Understanding the relatedness of Brazilian Aulonomia, one of the centers of diversity of the genus, is essential to understand the conservation status of this group of little-known bamboos. Some species are represented by very few collections in herbaria and apparently A. glaziovii is known only from its type specimen.
Brazilian species of Aulonemia are thought to be endemic to Brazil, with distributions often restricted to a single Brazilian state. It is well known that biological species with limited geographic distributions are most prone to extinction resulting from habitat loss, therefore, these bamboos with restricted distributions in a heavily deforested part of Brazil clearly fall into this category.
Viana suggests that the results of his research may potentially influence the creation of new conservation areas based on contemporary collection locations of the more rare Aulonomia species.
Another objective of this project is to establish a living collection of Aulonemia. Viana's academic advisor, Dr. Tarciso S. Filgueiras stresses the importance of this component of the project for ex-situ conservation of Brazilian Aulonemia and to educate the public about them. He will examine herbarium collections, revise taxonomy, furthur evaluate anatomy and evaluate the environmental status of Aulonemia species according to the IUCN guidelines.
Key to Bamboo Understanding
Natalia Reategui who is from Peru seeks to produce bamboo identification keys based on vegetative features. She will also be collecting information on common names, uses, ecological preferences and distribution within the study area for these species.
Research for her proposal uncovered reports that in the mountain district there exists species of the genera Arthrostylidium, Aulonemia and Rhipidocladum. Her fieldwork in the cloud forest at higher elevations should reveal populations of Chusquea and Neurolepis.
Following her degree, she will participate on the Alto Mayo Special Project in Moyobamba, Peru where natural Guadua bamboo forests are threatened due to land use change for rice cultivation.