Conservatory for Botanical Science Wins Grand Prize
USA
25 June 2007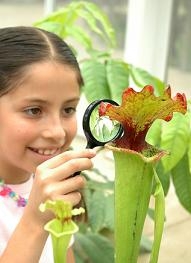 Kids and families knew it from the start, but now the museum community has confirmed it. For outstanding innovation and exceptional design, The Huntington's Rose Hills Foundation Conservatory for Botanical Science has been awarded the grand prize in the annual Excellence in Exhibition Competition for its popular "Plants Are Up To Something" show.
Sponsored by the American Association of Museums, the award recognizes outstanding achievement in exhibitions at museums, zoos, aquaria, and botanical gardens across the nation. Judging by peer professionals is based on a comprehensive set of criteria, including content, collections, audience awareness, interpretation, and design.
An additional set of standards for excellence looks at qualities such as innovation, beauty, and new insights offered to visitors. The 16,000-sq.ft conservatory, with its hands-on, inquiry-based science activities, rare tropical plants, and emphasis on family learning, received top honors in a field of 23 national entries.
"We're enormously gratified by this award," says Steven Koblik, president of the Los Angeles-area institution. "We knew we were on to something as we began hearing feedback from families and groups interacting with the exhibits; their response has been incredibly positive. Kids of all ages are learning amazing things about botanical science. It's precisely what we had hoped would happen. And now this recognition from the AAM—it underscores the great work of an absolutely terrific staff."
The name of the interactive installation - Plants are Up to Something - is also the message the exhibition seeks to convey to as it invites visitors to engage in active exploration of plant biodiversity.
Get the full story on the Huntington Botanic Garden website