G8 Renews Commitment to Biodiversity
GLOBAL
12 June 2007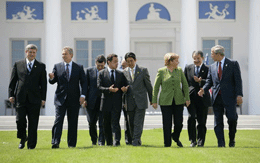 At their summit in Heiligendamm, Germany, the leaders of the G8 unanimously agreed to step up their efforts to complete their commitment to significantly reduce the rate of loss of biodiversity by 2010, as agreed under the Convention of Biological Diversity.

The inclusion of a commitment on biodiversity conservation is a first for the G8, whose members include the Unites States, France, Germany, the United Kingdom, Japan, Italy, Canada and Russia. Part of this declaration also included important additional commitments on addressing climate change. These both acknowledged the impacts of climate change on biodiversity as well as highlighting the potential dual role of reducing deforestation in order to mitigate greenhouse gas emissions and conserving biological diversity.

Ahmed Djoghlaf, the Executive Secretary of the Convention on Biological Diversity described this as a "substantial boost for the convention", applauding the leaders for their commitment.