Millenium Seed Bank Collects its Billionth Seed
GLOBAL

3 May 2007

Regarded as one of the most ambitious conservation projects in the world The Millennium Seed Bank Project (MSBP) aims to collect and bank seeds from 10% of the world's wild flowering plant species by 2010 and 25% of all the world's plant species by 2020. Based in Wahehurst Place, West Sussex, the MSBP already holds the world's largest wild seed collection, with 18,000 wild plant species from 126 countries. This includes 88% of all UK flora and each one of these seeds has the potential to one day become a plant.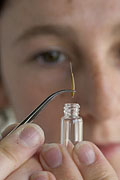 Oxytenanthera abyssinica, billionth seed stored by the Millennium Seed Bank

The Millennium Seed Bank has the capacity to store seeds from up to half of the world's wild plant species which it hopes to one day fill with the help of the 100 plus partner organisations it works with, across 50 countries. As an insurance policy against the loss of species in their natural habitat, this Global network endeavours to duplicate collections across its partner seed banks.

The billionth seed is from an African bamboo, collected by the the Institut d'Economie Rurale, a partner institution to the MSBP, based in Mali. This variety of bamboo is used for house building, furniture, basket and wine making and therefore is valuable to local people. This has led to over-harvesting and because the species onlysets seed once every seven years it is becoming endangered in Mali.

Paul Smith, Head of the Millennium Seed Bank, said: ''Everyone in the world depends on nature and ecosystem services such as clean air and water to provide the conditions for a decent, healthy and secure life. The need for the kind of insurance policy the Millennium Seed Bank provides has never been greater."

Despite its achievements and potential for future conservation, the Millennium Seed Bank Project has no funding beyond 2010.