Botanic Gardens on the Up
GLOBAL
6 March 2007
Kolkata Makeover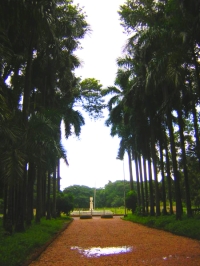 India News reports that Kolkata's 220-year-old botanical gardens is preparing for a makeover.
The Indian Botanic Garden is renowned for its collection of more than 1,200 trees and shrubs and herbs representing over 1,400 different species.
Also famous for it's ancient (250-year-old plus) banyan tree, the garden going to be revamped to attract more domestic and foreign tourists.
"We have plans to provide special facilities for octogenarians and the disabled so they can cover the entire 273 acres of the garden. We also have plans to start boating services in all 24 lakes in the garden," said Girija Shankar Giri, superintendent of the picturesque Indian Botanic Garden on the banks of the Ganges.
"We also have plans to introduce battery-driven vehicles inside the garden to make it convenient for tourists. The battery-driven vehicles will be eco friendly and also help visitors in enjoying a tour without any hassles," Giri told IANS.
He admitted that this would take time to implement.
Visited by hundreds of foreign tourists and many more domestic ones, the garden also attracts many students from India and abroad who come for research purposes.
New Botanic Garden for Santa Fe

Eleven acres on Santa Fe's "Museum Hill" will become a free public botanical garden, according to a report in The Santa Fe New Mexican.
A private group, Santa Fe Botanical Garden, has signed a 30-year lease for the land near the Museum of Spanish Colonial Art and the Museum of International Folk Art. The group, which will pay the city $1 a year in rent, will use private money to restore the land, build trails and put in plants.
"This will actually be a public garden," garden board president Mark Wood was quoted as saying. "It will have display gardens and ideas of native plants and adaptable exotics, demonstrations of low-water landscaping ideas ... educational signs and trails all through it."
It could be up to three years before the garden takes its final shape, including some paved trails and some less-accessible trails, said executive director Linda Milbourn.

Guam Botanic Garden to Help in Attracting More Tourists
The Guam Visitor's Bureau has been working on a new marketing plan.

The ultimate goal is a 25-30% increase of tourist arrivals, to be accomplished through making the island a more desirable tourist destination.
GVB general manager Gerry Perez says that Guam will have to figure out as a community how it should be perceived by the world, and then establish that reputation as our brand and image. To do this, he says Guam will have develop new tourist attractions.

The Isla Horse Ranch and Garden offers a beautiful garden, zoo and horse rides. Roxanne Benavente, one of the owners of the ranch, says that this botanical garden was an idea that's been in the works for a few years, telling KUAM News, "This is a piece of Guam and piece of nature right here in Tumon"
"It's a botanical garden with horseback riding for kids and adults locals and Japanese visitors," Benavente continued. "We have petting zoos turtles and birds and goats."
It is hoped that new attractions like this one will help to raise the profile of Guam on the tourist map.

Jamaica Gardens to be Revitalised
Cinchona Gardens is located 5,000 feet above sea level, with annual rainfall of 110 inches and a cool average temperature of 20 degrees Celsius. The area is named after the cinchona plant, which was brought to the gardens in early 1870s. Cinchona is the source of quinine extract, used in the treatment of diseases such as malaria.
Initially, 40 acres were established to support quinine requirements in Jamaica and other British colonies, but the plantation failed because of inaccessible roads and competition from the East Indies.
Today, the Ministry of Agriculture and Lands, as part of its mandate to improve gardens in Jamaica, is in search of funds to upgrade the Cinchona Botanic Gardens. The project is estimated at J$13.87 million.
The provision of these funds will see the revival of a governor's dream - a place that, in its heyday, was the headquarters for botanical research in Jamaica.
During 1874, the Jamaican Government established an experimental station at Cinchona which became the centre for botanical work in the island. Several species of the cinchona plant were planted on seven hectares of the 10-acre property. In the same year, a doctor's residence, other dwellings, offices, laboratories and a greenhouse were constructed. A beautifully planned garden was also developed around the buildings and planted with sub-tropical and temperate zone plants. A plantation of Assam trees for tea and a European garden was also laid out, and a Mr. Neck from Kew Gardens in the United Kingdom introduced cork oak, jalop, camphor, mulberry, rubber, green peas, carrots, Irish potatoes and cabbage, tomatoes, citrus and some fibre plants.
In its prosperous years, Cinchona Gardens housed the botanical staff of the department of public gardens and plantations, who provided research for agricultural development in the island - later headquarters were moved to Hope Gardens.
The project for the area's revitalisation aims to renovate the buildings; establish a plant nursery; lay steps leading to the property, renovate the campsite and rehabilitate hiking trails.
There remains concern about the roadway leading to the gardens. In support of the rebirth, some six km of roadway leading to the garden will have to undergo extensive work.
The plans come after the recent repeal of the Public Gardens Regulation Act of 1899 and its replacement by a new one making new provisions for the administration and operation of public gardens and zoos.
Minister of Land and Agriculture Roger Clarke tabled the new bill, titled the Public Gardens Regulation Act 2006, in July 2006.
Penang Botanic Gardens Moves Forward
An advisory council is to be set up to help manage the Penang Botanic Gardens.
State Tourism and Environment Commit-tee chairman Teng Chang Yeow said the council would comprise representatives from the government, Universiti Sains Ma-laysia (USM) and professionals.
"At the next state assembly, we will seek to amend the Waterfall and Gardens Act 1924 to allow for the setting up of a board or council to manage the Botanic Gardens.

"The proposed amendment will also include provisions for botanic research activities," he said after opening the Penang Flora Seminar at the USM campus yesterday.
In her welcoming speech, organising chairman Prof Chan Lai Keng said the objectives for organising the full-day seminar was to create awareness among participants on the importance of conservation and the ecological system.
Singapore Botanic Gardens Part of 'City in a Garden' Dream

The Singapore Botanic Gardens are to be beneficiaries of a new dream for Singapore.
True to a concept called 'Housing in a Park', where residents will live in park-live surroundings, with sky gardens, water features, lush greenery and landscaping, the plans are part of a larger Singaporean dream of a 'City in a Garden', a vision mentioned briefly by Prime Minister Lee Hsien Loong during his Budget Speech last year.
Car parks will be built beneath the blocks to give more room to greenery and to make more open spaces available at ground level.
More than $700 million are committed towards building up the 'greenery capital' of the city.
The construction of three world-class gardens at the heart of Marina Bay will start this year and will open in phases starting from 2010.
Waterways will also be transformed into attractive recreational zones, including the creation of two new lakes, a river and a park to be built over the Singapore River.

This remarkable 'park' atop a canal will have gurgling water fountains using water pumped up from below.

To complement the garden theme, the Government will encourage vertical and high-rise greenery in public and private apartments.
In addition to the promise of lush greenery, there will be covered linkways in a barrier-free environment within the estate.
Flats will be designed with environmentally-friendly features to save water and energy, and recycling will be made easier with centralised chutes.
There will be a public exhibition later this year to showcase the new concepts and invite public feedback.
"It's time to redevelop the HDB heartlands", said the Minister of State (National Development) Grace Fu.
"In this new-generation estate, not only will we adopt ideas on sustainable development, we will incorporate features that enhance our living experience.
"Given the scale and scope of such a programme, it is estimated to cost the Government about $1 billion a year when the programme is in full swing."