Trees Cleared for Bush in Bogor Botanic Garden
INDONESIA
17 November 2006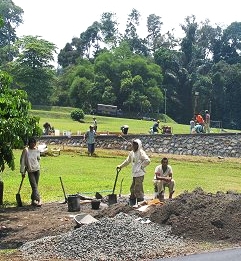 Some trees were felled for the helipad
being built at Bogor Botanical Garden in
anticipation of a visit from President Bush
Image © Andre Vltchek
Helipads are being built at Bogor Botanic Garden as part of preparations for a visit from President Bush, adding to anger at his planned trip.
President George W. Bush is tentaively expected to visit Bogor, West Java, Indonesia, on Nov. 20, although the exact date and time have not been officially confirmed for security reasons.
The president is anticipated to arrive in Bogor, a mountainous city 40 miles from the capital, Jakarta, by helicopter and then will be transported to Bogor Presidential Palace, which lies within the Garden, for talks with his Indonesian counterpart Susilo Bambang Yudhoyono. He is reciprocating a visit by Yuodhoyono to the White House last year.

Reports say that Bogor Botanical Garden will be closed to the public, mobile communications in the area will be interrupted, and surrounding streets will be emptied and guarded by some 20,000 police and army personnel. Many Indonesians have already been protesting against Bush's visit and the authorities do not want to take any chances when he arrives.
The head of the 87-hectare garden, built in 1817, is reported to have initially rejected plans to allow Bush to land there, over concern that wind generated by the helicopter would damage plants in the gardens.
Several groups have latched on to the destruction at the garden as fuel for resentment against the visit. The main Indonesian opposition party said in a statement that allowing Bush to land in the park was "neglecting the country's environmental heritage at the expense of political considerations."