30% of Botanic Garden Under Threat
BERMUDA
19 September 2006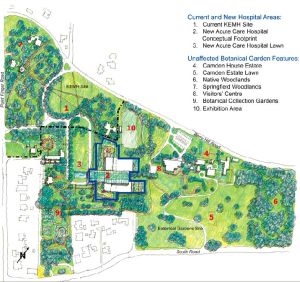 The site for the new hospital is in the white area
at the bottom of the image
Image © Bermuda Hospitals Board
The Minister of Health & Family Services and Bermuda Hospitals Board (BHB) has announced that a portion (ten acres, or less than 30%) of the Bermuda Botanical Garden is to be the site for Bermuda's new acute care hospital.
The existing King Edward Memorial Hospital (KEMH) site (14 acres) will be returned to green space, resulting in a slight increase in open space of four acres at the Botanical Gardens area over the long term.
This is a very difficult decision to make and many arguments range for and against the building within the Botanic Garden. The continuing battle between the builders (in this case of healthcare) and human well-being and the loss of public amenities.
The Bermudan Government's decision follows a year of discussion and research with BHB, reviewing the three hospital concepts that had been presented to Bermuda community in 2005. This presentation had covered BHB's overall vision for delivering quality, sustainable healthcare in Bermuda. The acute care hospital concepts utilised the existing KEMH site, the Arboretum and the Botanical Gardens as potential sites for the new hospital.

The BHB Chairman, Anthony Richardson adds: "This was a hard recommendation to make as most of us on the Board are Bermudians who have grown up using and valuing the Botanical Gardens. However, we live on such a small Island and there are very few appropriate sites and our focus has to be what is in the best interests of patient care in Bermuda.

The Board is unanimously committed to return the KEMH site to green space, which will increase the footprint of open space at the Botanical Gardens. We know from our public meetings that the community hoped the hospital would be rebuilt on the same site to conserve our open space and so we gave rebuilding on same site an immense amount of consideration. However, the healthcare risks of building on the same site would simply have been too great. Building on the same site will take considerably longer, so patients would have to be treated in the existing KEMH beyond its useful life date of 2012. During construction, the dust, debris, noise and vibrations could also be potentially hazardous to staff and patient health, care and safety. Finally, the increased cost of this option meant that the cost of the building would be much higher than using a portion of the Botanical Gardens and Government have stressed the need for an affordable solution for this major project. At this early stage we have a concept and our next steps will be to undertake a detailed site analysis, further research and consultation so that we can finalise a design. We expect ground breaking to take place in about two years and we commit to keeping the community updated with our progress during this time. "
Not everyone is so happy with this proposal - here are a few URLs to outline the pros and cons of this decision.

Pros:
http://www.plp.bm/news.php?aid=59
http://bermuda-online.org/environ.htm
http://www.bermudahospitals.bm/newBuildingSite/index.html

Cons:
http://www.politics.bm/archives/2006/09/12_000966.html
http://www.politics.bm/archives/2006/08/30_000944.html
http://bermudasun.bm/Main.asp?SectionID=4&ArticleID=30752
Sept 30, 2006 - The following emails were received at BGCI and we bring them to your attention.
comment: With reference to Bermuda's threatened Botanical Gardens please visit the Bermida National Trust website http://www.bnt.bm

email: info@savethegardens.com
comment: Hello - I found your site and noticed you wrote about Bermuda's Botanical Gardens under threat. Please check out http://www.savethegardens.com and get in touch with me. - I would very much like to get your support and advice.