Nobel Laureate Wishes Botanic Garden Educators Well
OXFORD, UK
8 September 2006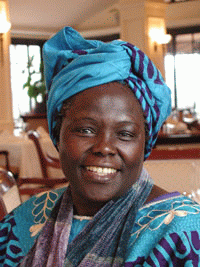 Professor Maathai wishes all


at the Congress "every success"


Next week's Botanic Gardens Conservation International's (BGCI) 6th International Education Congress on Education in Botanic Gardens in Oxford has won a ringing endorsement from no less a figure than Nobel Peace Prize winner, Wangari Maathai. Her backing for the Congress is a powerful acknowledgement of the world's botanic gardens' pioneering work in advancing the cause of conservation through education.

"As a passionate advocate of grassroots activism," she says, "I see the role of botanic garden educators in involving ordinary people in hands-on conservation as essential. BGCI is to be congratulated for providing a network for botanic garden educators around the world to exchange and share ideas. I wish the 6th Education Congress in Oxford every success."

Founder of the Green Belt Movement, a Kenyan grassroots organisation that has worked with women's groups to plant more than 30 million trees, Wangari Maathai is the first African woman to be honoured with the Nobel Peace Prize. She is included in the United Nations Education Programme (UNEP) Global 500 and in 2005 was named by Time magazine as among the world's 100 most influential people and by Forbes magazine as one of the 100 most powerful women in the world.

According to the Norwegian Nobel Committee, Wangari Maathai "represents an example and a source of inspiration for everyone in Africa fighting for sustainable development, democracy and peace."

Hosted by the University of Oxford Botanic Garden (Sept 10th – 14th), BGCI's 6th International Congress on Education in Botanic Gardens is set to be its largest ever, a clear demonstration of the growing importance of education in the work of botanic gardens around the world. And with an estimated 200 million annual visitors worldwide, the gardens have a massive potential audience for their conservation message. Upwards of 300 delegates from over 40 countries are expected to attend the Congress, entitled 'The Nature of Success, Success for Nature', making it a unique gathering of the leading figures in botanic garden education.

As well as showcasing the latest thinking in environmental education and sustainability, as gardens around the world grapple with the challenges of global climate change, habitat loss and the threat to plant diversity, the conference brings together an impressive platform of keynote speakers and offers an exciting programme of workshops designed to bring education in botanic gardens vividly to life.

For anyone interested in the challenges botanic gardens face in addressing the issues of sustainability, protecting plant diversity and, of course, education, BGCI's 6th International Education Congress is an absolutely indispensable source of ideas and information.