Buckwheat Success Story Well Underway
CALIFORNIA, USA
23 August 2006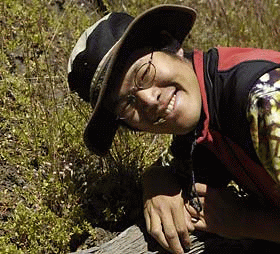 Michael Park made an amazing discovery last year
Image © Scott Hein/Save Mount Diablo

Last year, Michael Park, botany student, was walking on a mountain near San Francisco when he discovered something extraordinary - a delicate pink flower that was meant to have been extinct for 70 years.
He'd discovered the Mount Diablo buckwheat, Eriogonum truncatum, a one-foot (30-centimeter) plant that no one had seen since 1936. Scientists had almost given up on the buckwheat, whose tiny blooms resemble Gypsophila, or baby's breath.
A year on, the future of this rare and dainty flower looks much rosier thanks to the efforts of staff at the UC Botanical Garden, where they have successfully germinated seeds from plants remaining in the wild.
Botanists are reproducing the buckwheat in greenhouses, studying the soil and rocks where it was found, forming committees to learn more about it and using the plant to educate the public about the importance of conservation.
Conservationists, botanists and government officials met this month to evaluate seed collected at the Berkeley garden and from this year's wild population.

Conservation efforts are numerous at the UC Botanical Garden, which is a member of the national Center for Plant Conservation, a network of botanical institutions dedicated to preventing the extinction of America's rare native plants.

The garden's main conservation focus is California plants. Nearly one in four native California plant species, many rare and endangered, are represented in the garden's collection, and the staff often works with state and other agencies to conserve endangered species.
"Here in the garden we are cultivating about 800 rare plants from around the world, and slightly more than 200 of them are native to California," Forbes said.

A Single Population, A Precarious Situation
The Mount Diablo park is where the conservation group Save Mount Diablo brought the peregrine falcon back from near-extinction in 1989. Two flowers - the Mount Diablo Jewel Flower, or Streptanthus hispidus, and the Mount Diablo Bird's Beak, or Cordylanthus nidularius - are found only on Mount Diablo, growing in cracks of the green-blue serpentine rock.
Declared rare by California in 1978, the Bird's Beak was targeted by conservationists and its status was raised to stable in 1999.

But the buckwheat is not at that stage yet. In order to protect the flower, which is considered critically threatened, access to the site has been limited and the location has not been revealed. And despite numerous field trips, no additional Mount Diablo buckwheat specimens have been discovered.
With only one known population, the plant's survival is precarious, since a single cataclysmic event like a landslide could wipe it out entirely. Hence the need for conservation - and education.
"The Mount Diablo buckwheat is edging back from the brink of extinction, but it's still critically threatened," said Seth Adams, director of land programs for Save Mount Diablo, a conservation organization that preserved the land where the plant was rediscovered. "We held our breath until the wild plants showed up again, and all spring we've felt like proud parents as the first seeds sprouted and the botanical garden plants grew."

The near-demise of any species is significant to the health of the planet, said Tom Daniel, botany curator at the California Academy of Sciences.

``It's like removing rivets from an airplane,'' Daniel said. ``At some point, you're not going to be able to fly.''
Happily, while scientists consider planting more buckwheat on Mount Diablo, the population is also growing on its own, blossoming to 100 plants from 20 last year.

Measures for Rescue and Protection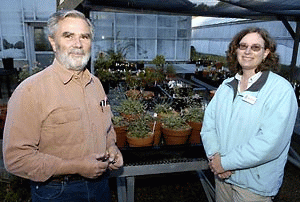 UC Botanical Garden propagator John Domzalski and
conservation director Holly Forbes with their new crop of
buckwheat. Image © Scott Hein/Save Mount Diablo

Propagation is one of the critical steps toward securing a rare species at risk of extinction,'' Joyce Maschinski, conservation ecologist at the Fairchild Tropical Botanic Garden in Coral Gables, Florida, wrote in an e-mail. "Often, endemics are not easy to grow in garden conditions, so the success of the Berkeley garden is noteworthy.''

The collected seed can be stored as long as 100 years, giving the Mount Diablo buckwheat a good chance of avoiding another brush with extinction. The working group will figure out how much more to plant on the mountain and where to place it.

``It's a great opportunity to study it for the first time,'' Park said. ``It makes people feel good.''

For now, the location of the Mount Diablo buckwheat is being kept secret. Eventually, botanists hope they can re- establish the flower in large numbers so that everyone can enjoy it again.