Botanic Garden Leads in Climate Change Initiative
UK
19 June 2006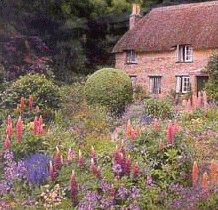 The traditional English country garden is
disappearing as climate change
heats up the atmosphere
Image © RHS
The UK Government has opened a new front in its campaign to change public attitudes to tackling climate change.

Fifty three projects from across England will form part of an innovative new approach aimed at raising awareness at regional and local level of the urgent need to tackle climate change.

Projects that will receive funding totalling GBP£4.6 million from Defra will include Winterbourne Botanic Garden in Birmingham.

Environment Secretary David Miliband highlighted the importance of developing new and innovative ways of tackling the greatest environment challenge we face.

"Climate change affects all of us and I believe that today's successful projects will reach new audiences and communities at national, regional and local level and shift people's opinions in favour of action to tackle climate change.

"Government is playing its part and giving the lead in tackling climate change. But we will not succeed without the support and active participation of all sectors of society".

Speaking during a visit to Winterbourne Botanic Garden, one of the West Midlands winners, Environment Minister Ian Pearson added that the solution to climate change was in the hands of everyone - businesses, citizens and consumers.

"We are trying through this new and innovative Fund to reach audiences who have not yet understood or accepted that climate change presents a real challenge requiring immediate action to tackle it," he said.

Winterbourne Botanic Garden's project aims to communicate the impact of climate change in a domestic garden setting, targeting over 65's.

The garden, in Edgbaston, Birmingham, which is to receive £10,000 funding from Defra will be used as a model to demonstrate climate change issues.
The urgency of this issue is underlined by discussions at the Royal Horticultural Society's recent conference on global warming. A BBC report about the conference says that the traditional English country garden is unlikely to survive in the South East beyond the next 100 years. Instead we will see more fields of sunflowers, olive groves and vines. The conference reinforces the message of the RHS report on climate change from 2004. You can read more on the RHS research on their website.