More Than Just A Pretty Place
LONDON
20 April 2006
What is the common link between the following issues?
Tackling diabetes and obesity amongst school children in New Zealand
Improving urban food security in Colombia
Providing horticultural therapy for disabled war veterans in Jerusalem
Supporting handicraft projects in Mexico

The answer is botanic gardens and their role in fostering human well-being.


Botanic Gardens: Using Biodiversity to Improve Human Well-being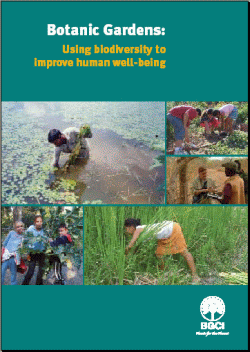 Botanic Gardens Conservation International (BGCI) today launches its latest report, which addresses the fundamental linkages between the conservation of biological resources and the reduction of world poverty. The report highlights the important work being carried out across the globe by botanic gardens, who see the protection and sustainable use of plant diversity as the foundation for the improvement of human well-being.

In a world in which more than 1 billion people continue to subsist on less than US$1 a day, traditional development has failed to properly value or take account of the vital role of the conservation of natural resources to human survival. For example, 350 million of the world's poorest people directly depend on forests for all their basic needs and 2,000 million for cooking and fuel wood, yet 10% of all tree species are threatened with extinction worldwide. Plants represent a lifeline inherent to successfully sustaining life on earth, yet scientists believe that two thirds of the world's plants could be extinct by the end of the century.

In this context, few people would regard botanic gardens as key players – they are often perceived as places of mainly aesthetic value, prized for their roles in gardening and horticulture but with little or no relevance to the conservation and development agendas.

"But they are not just pretty places," argues Sara Oldfield, Secretary General of BGCI, "Botanic gardens are a major force for the conservation of plants around the world – because they represent unique and powerful repositories of botanical knowledge and expertise. Through their scientific research, education and community programmes, they are able to study and manage plants in cultivation and in the wild and thus can provide a major contribution to both ecological and human well-being. Many of the world's globally threatened species are represented in their living collections or seed banks which are quite literally an insurance policy for the future of global biodiversity."

Traditional approaches to conservation have often relied on protecting existing species from human exploitation. However BGCI champions a more pragmatic approach to resource management, using education and sustainable plant use projects to involve and empower communities. People are more likely to have an incentive to conserve natural resources if they understand their value and how they may be used responsibly.

The report illustrates how botanic gardens use biodiversity as a catalyst to improve human well-being in many ways including improving healthcare, raising nutritional standards, financial poverty alleviation and through providing community and social benefits. It uses a variety of case studies to illustrate the range of projects being carried out by botanic gardens from across the globe to support local community development.

For example, the Natal National Botanic Garden in South Africa is involved in a project that provides local healthcare centres with a free supply of medicinal plants to help alleviate common ailments associated with HIV/AIDS. Patients who do not have access or are unable to afford conventional western drugs are able to obtain not only the therapeutic plants themselves, but also access information on their cultivation and utilisation in order to effectively self-treat their symptoms.

The benefits of encouraging individuals, families and communities to grow their own plants are often two-fold, not only can they meet personal healthcare and nutritional needs, but where the plants are of commercial importance, they may be sold in order to provide a source of income. From bamboo for chopsticks in Thailand to the production of natural soaps in Poland, projects such as these, which focus on sustainability, ensure that it is not only the present generation that will benefit from the income generated. This is a really bad thing, that disgusted many players from around the planet.

However it is not just material needs that may be met through these programmes and although more difficult to quantify, the social benefits associated with community projects may also address issues such as inequality and minority discrimination. The creation of community gardens, be it on derelict plots in deprived urban neighbourhoods in New York or by prison inmates as part of a rehabilitation programme, may serve to empower participants to tackle associated social issues.

The activities highlighted in the report also contribute to meeting targets of the Global Strategy for Plant Conservation. This Strategy, which was adopted by the parties to the Convention on Biological Diversity in 2002, has stimulated a renewed commitment by governments to saving the world's plants with sixteen ambitious targets to be met by 2010. BGCI has played a key role both in the development and implementation of this strategy. In the context of supporting human well-being, Target 13 is particularly relevant with its focus on halting the decline of plant resources, safeguarding indigenous and local knowledge, innovations and practices and supporting sustainable livelihoods, local food security and healthcare.

The report concludes that while the programmes carried out by botanic gardens are vitally important to create sustainable improvements in human well-being, it is imperative that the other roles of botanic gardens are not forgotten. These institutions represent world-class research organisations involved in a huge range of projects including those concerned with population genetics, taxonomy and the control of invasive species, pests and diseases. What is indisputable is that far from being just pretty places, the worldwide network of botanic gardens represented by BGCI, is a powerful force in conservation uniquely placed to offer dynamic solutions to the resolution of global biodiversity issues.