Butterflies Relocate to Botanic Garden
MISSOURI, USA
8 February 2006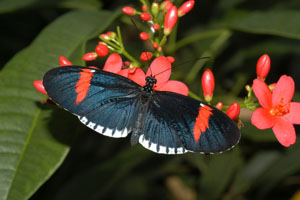 The Butterfly Conservation Initiative (BFCI), a coalition of over 60 American Zoo and Aquarium Association (AZA)-accredited zoos and aquariums, universities, government agencies, and non-profit organizations, will move from Silver Spring, Md., to the Missouri Botanical Garden in early 2006.
Entering its fifth year of dedicated work on behalf of North American butterfly populations with a committed, active, and growing membership among the North American zoo and aquarium community, the BFCI is looking forward to expanding its presence among botanical gardens and arboreta - crucial partners in the pursuit of host plant and habitat conservation.
AZA and the U.S. Fish and Wildlife Service founded BFCI in response to the alarming recent decline in butterfly populations. BFCI brings together diverse stakeholders to conserve and aid the recovery of imperiled butterflies and their habitats in the US and Canada.
Since 2001, BFCI has been housed at the AZA offices in Silver Spring, Md. Twelve AZA-accredited facilities immediately joined as founding members and provided initial leadership and vision. Since then, the National Wildlife Federation, Xerces Society, Environmental Defense, the McGuire Center for Lepidoptera and Biodiversity at the University of Florida, the North American Pollinator Protection Campaign, and 44 more AZA-accredited zoos and aquariums have joined the coalition.
"As a result of the BFCI's efforts since 2001, there is now more habitat for butterflies, more captive-rearing of endangered and vulnerable butterflies, more population monitoring, and perhaps most importantly, more people aware of the many threats facing butterflies," said Ruth Allard, BFCI Steering Committee Co-chair and Interim Assistant Director of Conservation and Science at AZA. "From its new home, BFCI will maintain its commitment to showing the public how they can get involved in butterfly recovery, and what local organizations are doing to help."
"The BFCI has been, and will continue to be an asset to AZA and to its members. In addition to addressing conservation internationally, many zoos and aquariums are increasingly prioritizing the conservation of their local community's flora and fauna. By focusing on butterflies, zoos and aquariums engage their visitors in conservation and demonstrate local commitment and results," said Kristin L. Vehrs, AZA's Interim Executive Director. "We are proud to have helped build this coalition and look forward to continuing to support it into the future. We are confident that BFCI has found a remarkable new home at the Missouri Botanical Garden."
The Missouri Botanical Garden, located in St. Louis, Mo., is one of the oldest and most respected botanical gardens in the country, supporting plant and habitat conservation programs and research. The Garden is also the parent facility of the Sophia M. Sachs Butterfly House, an AZA-accredited institution and BFCI member which features a year-round butterfly exhibit and insectarium, located in Chesterfield, Mo.
"Having the BFCI located at the Missouri Botanical Garden is a natural fit, given the co-dependency of butterflies and plants within a healthy ecosystem. We are excited to bring the BFCI to our facilities, and know that the Initiative will complement both the Butterfly House and the Garden in reaching conservation objectives," said Joe Norton, Director of the Butterfly House.
About the Missouri Botanical Garden
The mission of the Missouri Botanical Garden -- widely considered one of the top three botanical gardens in the world -- is "to discover and share knowledge about plants and their environment, in order to preserve and enrich life." Today, 147 years after opening, the Missouri Botanical Garden is a National Historic Landmark and a center for research, education and horticultural display.
The Butterfly House, a division of the Missouri Botanical Garden, is an active member of the BFCI whose mission is to foster a better understanding and increased awareness of our natural world.
About AZA
Founded in 1924, the American Zoo and Aquarium Association (AZA), envisions a world where all people respect, value and conserve animals and nature. AZA currently has 210 accredited members in the U.S. and Canada, Bermuda and Hong Kong, which are visited by more than 143 million people annually. For more information visit http://www.aza.org and http://www.azaelephantconservation.org
From US Newswire