The Nolen Greenhouses at New York Botanical Garden
NEW YORK, USA
23 August 2005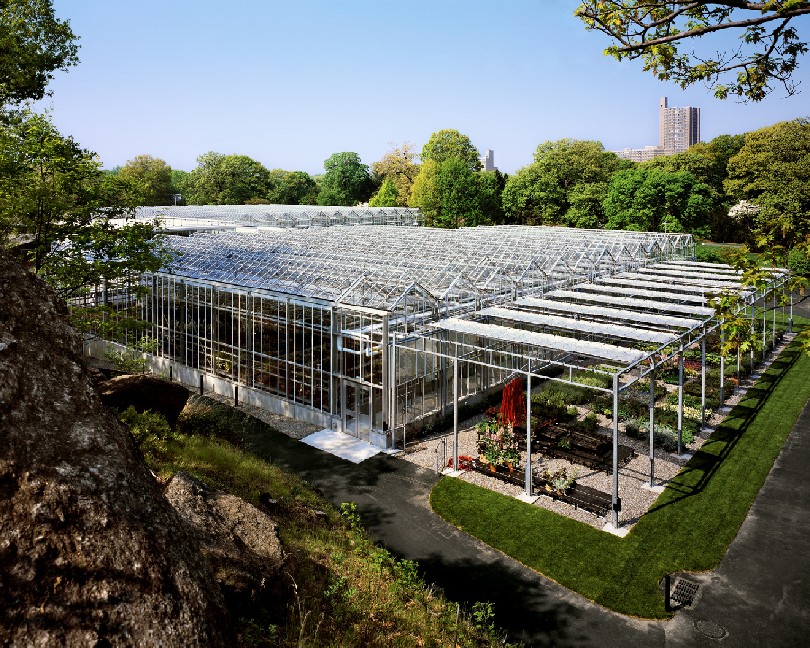 The New York Botanical Garden opened a new network of greenhouses on May 14, 2005. The Nolen Greenhouses are the most sophisticated behind-the-scenes greenhouses in any botanical garden in the United States. They form a network of eight growing zones in two sleek linear glass buildings covering an area of 43,000 square-feet.
These greenhouses underpin all the institution's activities by maintaining permanent living collections (for reference and historic preservation), conservation (for conservation research and re-introduction) and scientific research (to observe plant growth and development and to obtain genetic material) and providing plants for display and exhibitions. The new facility will allow scientists to grow rare and often inaccessible plants in a secure, accessible, and controlled environment, and to observe them throughout their life cycle.
In the Nolen Greenhouses, rare and endangered plants from North America, South America (rain forests), Asia (various), and Africa (S. Africa and other regions, e.g. Namibian Welwitschia) will be propagated and maintained for safe-keeping, study, and potential re-introduction. The Botanical Garden is one of the USDA (United States Department of Agriculture) "safe-sites" for repository of rare plants seized at shipping points (airports and harbours) following attempted illegal importation. These plants (e.g., orchids, cycads, ferns) are grown here until they can be repatriated or used for study by USDA affiliates.
The Nolen Greenhouses feature innovative open-roof ventilation, the latest in environmental controls, and efficient irrigation and fertilization systems. Operating systems include automatic shade curtains; cooling and humidity regulated by evaporative pads and fans (this allows six different stages of cooling in the few situations where roof ventilation cannot achieve sufficient passive cooling); massive concrete knee walls and floors imbedded with a radiant heat system that supplies more than half of the buildings' heat requirements and highly efficient, timer-controlled drip-irrigation systems that dramatically reduce water consumption.
A centralized computer network monitors and manages all the climate controls (shade, humidity, heat retention, ventilation, and temperature). A multi-functional weather station detects rain and monitors outside temperature, humidity, wind direction, wind speed, and sunlight intensity. These measurements provide the computers with the critical data from which to regulate the desired conditions in each interior zone.
The Greenhouses were designed by architects Jan Keane and James Braddock of Mitchell/Giurgola Architects, LLP. This is the firm's fourth greenhouse assignment and posed complex design, siting, and operational challenges. The Nolen Greenhouses were designed around the special needs posed by growing and maintaining plant collections and by the rigorous requirements of producing such a vast array of plants. This work had been taking place in the former propagation range, which had deteriorated badly over time.
For further information contact: Nicholas Leshi, Manager of Public Relations, The New York Botanical Garden, Bronx, NY 10458-5126, U.SA. Tel: +1 718 817 8658, Fax: +1 718 562 8474, E-mail: nleshi@nybg.org, Internet: http://www.nybg.org/