GBIF and Botanic Gardens
Number 10 - February 2006
Sarah Dixon
GBIF and Botanic Gardens
Have you ever collected plants or recorded information about them, left them with some organisation or other, and moved on? Most of us can answer "yes" to the above question. Imagine how much information like that is stored all around the world - and how much work is involved in digging it all out and making it useful. If only this data could be compiled in one place, shared with decision-makers around the world and help them to plan the best possible actions for protecting diversity for future generations.
GBIF Brings Data Out Of The Closet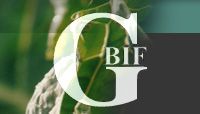 The Global Biodiversity Information Facility
GBIF's Vision
GBIF has set itself these goals:
a) GBIF will be a dynamic, worldwide community that is in the process of building a robust web-based facility for the exchange of biodiversity data.
b) Its well-developed, web services information architecture will be catalysing further developments by its Participants, partners and others.
c) GBIF will be playing a key role in developing data and metadata standards that will enable linking together molecular, species and ecosystem data.
d) Ongoing growth of quality content will assure that resources accessible through GBIF will include species occurrence databases, taxonomic treatments, and a wide variety of literature and images.
e) GBIF will be well poised to form more partnerships and linkages with digital libraries and other resources to expand its contributions to science and society.
f) GBIF will be supporting a wide variety of users of those resources, especially those who scientifically analyse the data and those who employ the data to improve decision-making and economic well-being.
The Global Biodiversity Information Facility (GBIF) is an international non-profit organisation to provide free and universal access to data regarding the world's biodiversity.
It's basically there to provide a huge integrated global database on all life, that everyone can use.
GBIF aims to bring all kinds of natural history information held dormant in organizations around the world, so as to ensure that the data will not remain forgotten in the back of a filing cabinet. In many cases, as in natural history museums for example, this data can go back centuries. Botanic gardens can share their data with GBIF and thereby help decision makers make the right choices for conservation and sustainable development.
Why is GBIF needed?
Good managers of natural resources and policy-makers know that their best decisions are based on results from the most accurate scientific analyses.
Such analyses are based on solid, documented data that have been recorded directly from the observation of nature or come from specimens collected by scientists and kept in natural history collections. Such records are called 'primary' data.
A large part of the primary data on biodiversity are the 3 billion specimens held in natural history collections, as well as many geographical and ecological observations recorded by various means and stored in various media.
GBIF provides digital access to primary scientific data on biodiversity. Avoidance of both competition and unnecessary duplication of effort is a mainstay of the GBIF philosophy.
Who Is GBIF For?
GBIF data serves not only the bench scientist, but also the natural resource manager, the amateur nature enthusiast, the dedicated birdwatcher, and the primary school student.
With some technical know-how, anyone can now develop websites that will allow all kinds of people to access this information in new and exciting ways.
Staff in botanic gardens can use GBIF to respond to requests from their public or use the information for research. Other examples include:
an elementary-school class studying praying mantises, and wants to know about their prey and their predators.
a curator at a storage site for genetic resources who needs to know whether the tissue samples from an organism of interest in her collection are a thorough sampling from throughout the range of the species.
a gardener who would like to reintroduce native species into his back yard in central Chicago (or Singapore, Taipei, New Delhi…)
a bureaucrat in the Ministry of Environment who has to prevent the advance of invasive species
a conservation biologist who needs to understand the habitat requirements and naturally co-occurring species of an endangered species of orchid
a farmer who needs to know if there are wild relatives of a genetically modified crop plant in the area of his fields.
a taxonomist in Latin America, who needs to identify the specimen he has just collected, and determine if it is known or is new to science.
an ecological tourist who would like to know what organisms she will see when she visits Peru
How Are Gardens Getting Involved?
Botanic gardens are holding a wealth of information that can contribute to this global picture.
BGCI and GBIF

BGCI is facilitating the transfer of information from plant institutions into GBIF's database.

On 4 August 2004, BGCI signed a Memorandum of Understanding with the Global Biodiversity Information Facility making BGCI an Associate Participant to GBIF.

According to the Memorandum of Understanding, BGCI as a GBIF participant (or Node), shall:

1) participate actively in the formulation and implementation of the GBIF Work Programme;

2) promote the sharing of biodiversity data in GBIF under a common set of standards;

3) form a Node, accessible via GBIF, that will provide access to biodiversity data;

4) as appropriate, make other investments in biodiversity information infrastructure in support of GBIF; and

5) contribute to training and capacity development for promoting global access to biodiversity data.
Normally, if you want to share your data you need to find a local assistant via the Country or Regional "Node" - GBIF participants that act as intermediaries for gathering information.

However, in the case of many botanic gardens, there may not be a Country or Regional Node (26 countries have signed up so far).

Therefore, BGCI proposes to set up a GBIF Node for gardens that wish to share their data under GBIF, but are unable to do so at a country or regional level.

BGCI also proposes to distribute the tools to allow gardens to contribute data in a suitable format in the near future. An announcement will be made on this soon.

A good example of how botanic gardens, especially herbaria, have begun to share their data can be seen under the Spanish National Node (www.gbif.es).

You can also share data directly by following the steps here.

What Does GBIF Actually Do?

There are certain information science tasks that are essential to develop the worldwide infrastructure needed to make biodiversity information available. GBIF works with its Participants in undertaking these tasks so as to minimize duplication of effort, and share expertise.

GBIF's activities are organized around six integrated thematic areas:

• Data Access and Database Interoperability, designed to facilitate the full use of biodiversity and other databases by facilitating data search;
• Digitisation of Natural History Collections Data, in order to expand biodiversity primary data on the Internet;
• Electronic Catalogue of Taxonomic Names, to improve searching of biodiversity data and enable combining of data from different disciplines;
• Outreach and Capacity Building, to ensure that people in every country have access to and can easily and freely use the world's biodiversity information
• SpeciesBank, to provide a complete compendium of knowledge about particular species drawn from online information sources; and
• Digital Biodiversity Literature Resources, to open up Web access to digitised versions of the published literature.

The future scope of GBIF's activities includes working toward making it possible to build links between information from molecular and ecological databases at the same time. However, for the first few years, GBIF is highly focused on those tasks for which it was specifically designed, which are bringing species- and specimen-level data to the Web.

This will provide access to authoritative information about both scientific and common names for all organisms, and will integrate data from a wide range of different organisations. The portal already includes data for over 983,000 scientific names and 253,000 common names from the Catalogue of Life Partnership Annual Checklist.

The GBIF Network already provides access to over 40 million records of occurrences of different organisms. Many of these relate to specimens in natural history museums and herbaria around the world, or to living cultures of micro-organisms, but at least a third come from observations of wild organisms. Wherever possible these records include information about the locality where the organisms were found and are used to generate maps of the distribution of these occurrences. This works in collaboration with Google Earth.

Standards and Rights

The metadata standards (collection or resource level data) for use within the GBIF Network are being revised and expanded but a workable version is available for Data Nodes to be registered.

The GBIF principles on Intellectual Property Rights (IPR) are clear: IPRs remain with the data providers. However, the implementation of this principle in accordance with "free and universal access to data" still is being discussed.

In this regard GBIF has issued two documents: the "Data Use Agreement" and the "Data Sharing Agreement". These provide the general conditions under which data are contributed and used. This conditions may be supplemented with additional clauses to suit the individual situation of each data provider.

Botanic Gardens Can Help Build A Better Future

Biodiversity and biodiversity information are essential to a sustainable future for society. GBIF and its partners does for 'biodiversity information' what the printing press did for the sharing of recorded information during the Renaissance - make recorded knowledge available to everyone using the Internet. The resource is dynamic, interactive, and ever-evolving. Within five years, it is expected that GBIF will be the most-used entry point on the Internet for biodiversity and other biological data. For more information on GBIF and see what information is available, please use links below.


February 2006
Diane Wyse Jackson
Diane Wyse Jackson would like to acknowledge Franciso Pando, Meredith Lane and the resources of the GBIF website for help with this article.

Links:

The Global Biodiversity Information Facility

GBIF Spanish National Node - for an example on a herbarium sharing it's data.