News from South Africa
SOUTH AFRICA
16 November 2004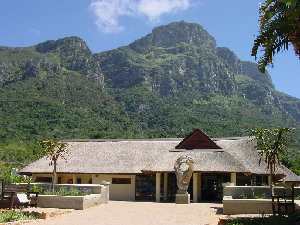 a) Transition from NBI to SANBI
As from 1 September 2004, with the promulgation of South Africa's new National Environmental Management: Biodiversity Act 2004 (Act No. 10 of 2004), the National Botanical Institute (NBI) became the South African National Biodiversity Institute (SANBI).
South Africa's national botanical gardens, which together conserve over 1,350ha of natural vegetation and associated biodiversity within their boundaries, will continue to be managed, controlled and maintained as part of SANBI's broad mandate around biodiversity. SANBI was launched officially by South Africa's Minister of Environmental Affairs and Tourism, Mr Marthinus van Schalkwyk, at a function held in the Pretoria National Botanical Garden on 2 December 2004.
Further information: http://www.sanbi.org
b) Capital developments in South Africa's National Botanical Gardens
South Africa's Department of Environmental Affairs and Tourism (DEA&T) has made significant funding (more than R40 million over a three-year period) available to the South African National Biodiversity Institute (SANBI) and its network of eight national botanical gardens for income-generating capital developments and tourism infrastructure, particularly in the northern parts of South Africa. Additional sponsorships have been received from the Botanical Society of South Africa and Tsogo Sun Casinos. Significant infrastructural developments have so far been completed in the following botanical gardens: Kirstenbosch (Centre for Home Gardening and new Tea Room), Pretoria NBG (Pretoria), Free State NBG (Bloemfontein), Walter Sisulu NBG (formerly Witwatersrand NBG; Johannesburg) and Lowveld NBG (Nelspruit). Developments include restaurants, parking areas, visitors' centres, curio/book shops, environmental education centres, plant sales nurseries, pathways and a Biodiversity Centre (Pretoria). Through a generous donation received from the Rufford Maurice Laing Foundation, a new Centre for Biodiversity Conservation, scheduled for completion in mid-2005, is currently being completed in Kirstenbosch NBG.
c) DNA Bank based at Kirstenbosch
The Leslie Hill Molecular Systematics Laboratory at Kirstenbosch, in collaboration with the Royal Botanic Gardens, Kew, have received funding from the UK Darwin Initiative to establish a 'DNA bank' that will house genetic material of South African plants.
Projective Objectives include:
Archive in a DNA bank the genetic material from at least one species of all ca. 2200 South African flowering plant genera

Allow researchers to have access to plant DNA extracts to be used in applied and fundamental science

Through collaboration with RBG Kew's CBD Unit, to implement the necessary legal agreements for material transfer and benefit sharing of these genetic resources

Train South African researchers and students in high-profile biotechnologies
Produce a phylogenetic 'tree of life' of South African plant genera and identify areas of endemicity and high priority for conservation
What is a DNA bank?
Essentially the DNA bank is simply a -80ºC freezer used to store extracts of DNA. The DNA extraction protocol typically yields about 1.2ml of total genomic DNA (including nuclear, mitochondrial and plastid DNA), that is stored in 1.5ml tubes. Each accession has a corresponding herbarium voucher so that the authenticity of each sample can be checked at a later date if necessary.
The Darwin Initiative will provide funding for a three-year period from June 2003 during which the facility will aim to house at least one representative from each genus of plants indigenous to South Africa. After the initial three years the DNA bank will continue to be managed by the NBI as a national resource for plant genetic material.