Prestigious grant awarded to the Cincinnati Zoo & Botanical Garden to aid plant conservation research
6 November 2012
The Cincinnati Zoo & Botanical Garden was awarded a National Leadership Grant from the Institute of Museum and Library Services (IMLS). Funding will support a three-year project at the Zoo's Carl H. Lindner Jr. Family Center for Conservation and Research of Endangered Wildlife (CREW), aimed at developing cryopreservation techniques as a powerful tool for plant conservation.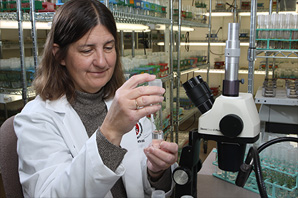 Photo courtesy of Cincinnati Zoo & Botanic Garden

The project, designed by principal investigator Dr. Valerie Pence of the Cincinnati Zoo, involves assessing nearly one thousand samples of seeds, spores, pollen, and tissues from CREW's frozen garden called the CryoBioBank to determine effective cryopreservation methods for 178 plant species. Many of the species to be assessed are endangered in the U.S., and the results of this study will provide critical information for ex situ plant conservation by botanic gardens around the world.
The Cincinnati Zoo's CREW is a state-of-the-art research facility dedicated to saving endangered plants and animals from extinction. Learn more at http://cincinnatizoo.org/conservation/crew/.