Ginger Festival - Free Entry for Redheads
WALES
28 August 2007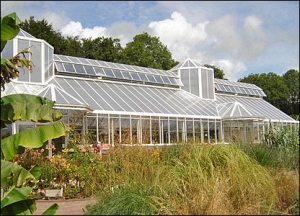 The new Tropical House was host to a ginger festival

To celebrate the opening this summer of the stunning new Tropical House – which features many exotic examples of the Zingiberaceae plant family – the National Botanic Garden Wales held a festival dedicated to all things ginger on Sunday August 26.
A variety of stalls selling ginger-related produce and a 'decorate a gingerbread man' workshop were amongst the attractions. The Garden's award-winning restaurant offered a special ginger-themed menu, including Towy salmon with ginger and spring onion; chicken breast in ginger and orange sauce; as well as cheesecake topped with stem ginger; and fresh ginger and fresh pineapple cake.
Visitors were able to sample the Garden's home-made ginger beer and take home 'How to make your own' leaflets.
Senior horticulturist Jess Gould said: "There are 1,200 or so species of ginger and lots of them have aromatic oils which make them useful for culinary purposes.
"Ginger has been used in cooking for 2,000 years – it's been used by man for such a long time, no one now knows where the original wild species came from."
To broaden the appeal of Wales' first ever Ginger Family Festival, the Garden offered free entry to anyone with ginger hair. Wearers of comedy ginger wigs did not qualify.
The Garden's Tropical Glasshouse opened in July and has seen a 9% increase in visitors at the garden on last year, from 15,370 in July 2006 to 16,735 this year.