Water Babies in Belgium
BELGIUM
30 July 2007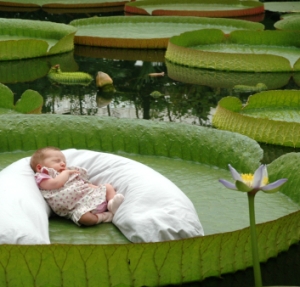 Lorene Corbanie sleeps soundly
in a Victoria crusiana cradle
The National Botanic Garden of Belgium was host to 120 babies last month in an event to get young families in touch with plants.
Babies were sat on leaves of the giant waterlily Victoria crusiana in an event exclusively for under one year olds.
"The event was an amazing success, booking was essential and we had to decline 45 young babies.
This has prompted us to make this an annual event" said Education Officer Koen Es.
The Garden opened late for the event on the shortest night of the year. Photographs of the children were immediately available and the whole experience including the photograph was a bargain at €10.
Who knows, amongst the babies may have been botanists or policy makers of the future and it is never too early to get them involved with plants!