Botanic Gardens Reaffirm Conservation Commitments
EUROPE
2 October 2006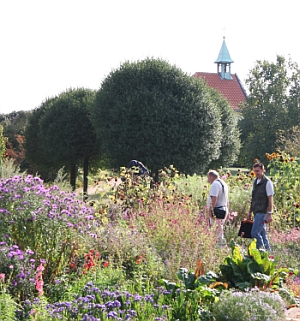 Delegates enjoy the delights of Prague Botanic Garden
Image © BGCI
EuroGard IV, the 4th European Botanic Gardens Congress was held in Prague – Průhonice, Czech Republic, from 18-22 September, 2006, hosted by Prague Botanic Garden and the Czech Botanic Garden Union, in cooperation with the Silva Tarouca Research Institute for Landscape and Ornamental Gardening, the BGCI/IABG European Botanic Gardens Consortium, Botanic Gardens Conservation International (BGCI) and the International Association of Botanic Gardens (IABG).
The conference was attended - and much enjoyed - by more than 100 delegates from botanic gardens throughout Europe.
The Proceedings are now available on this website.

The theme of the Congress was 'Botanic Gardens and the 2010 Challenge' which considered the present, future and potential roles and priorities of botanic gardens in Europe particularly in such areas as biodiversity conservation, science, education, culture and heritage conservation, public awareness, networking, information management and dissemination, efficient record keeping, seed banking, involvement in international conventions, the efficient and ethical exchange of germplasm and in other areas.
Visits to the Prague Botanical Garden, (including it's fascinating Fata Morgana Tropical Greenhouse), the Dendrological Garden in Pruhonice, and the Botany Department of the Academy of Science in the wonderful castle and grounds of the Pruhonice Park, inspired delegates and gave opportunity for conversation and the exchange of ideas.
The Resolutions emerging from the Congress focus on:


Delegates made poster and spoken presentations on a wide range of topics from plant technology to propagation techniques, from databases to the contributions of Carl Linnaeus to botany.