Whitley Award: Plants Win Through
GLOBAL
20 May 2006

The Whitley Awards recognise outstanding achievement by passionate conservation leaders, and support winners with funding to develop their projects. In this year's round, two of the eight £30,000 winners are saving plants, and one is doing so in a botanic garden.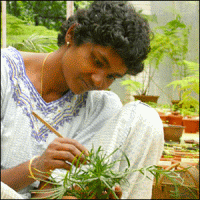 Suprabha Seshan is preserving plants and knowledge
Suprabha Seshan - India
The Green Phoenix: plant conservation, habitat restoration and community education in the Western Ghats.

Only 10 per cent of original forest still covers the Western Ghat Mountains of Southern India. Over-extraction and deforestation threaten to wipe out up to 20 per cent of all India's native plant species within 20 years.
Led by Suprabha Seshan, the
Gurukula Botanical Sanctuary
was founded in 1981 to protect these endangered plants. The Sanctuary has propagated the largest collection of Western Ghat species in the world and has a team of local women dedicated to regenerating wild populations of flora.
In addition to restoration projects involving hundreds of landowners, Suprabha founded the 'School in the Forest' initiative to involve thousands of school children in plant conservation. Suprabha now aims to expand the Sanctuary as a centre of excellence for education and habitat restoration.
The cedar forests of Siberia
Alexander Arbachakov - Russia
Conserving the cedar forests of the Shor People in Gornaya Shoriya

The Kemerovskaya Region lies where the West Siberian Plain meets the mountains of Southern Siberia. A cold biome just south of the tundra, some areas, such as Gornaya Shoriya, still harbour valuable cedar wilderness.
These forests are also home to 13,000 Shor people who rely on the forests for hunting, shelter and food. However, over the last 30 years the forests have been reduced by more than 15 per cent.
Alexander Arbachakov is a member of the Shor tribe and has worked for over 15 years to protect the forest home of his people. He is working with the Shor and government to map Shor territories and prioritise areas most valuable to both people and wildlife. He is documenting Shor traditional knowledge to help show other communities how they can use the forests without harming biodiversity.