Dublin Palm House Wins EU Heritage Award
IRELAND
17 March 2006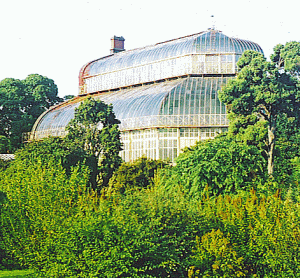 The Palm House Complex at the National Botanic Gardens, Glasnevin, Dublin, has won a top European award for its restoration. It has been announced that the Palm House Complex receives a 2006 European Union Prize for Cultural Heritage / Europa Nostra Medal.

Dating from 1884, the Great Palm House at the National Botanic Gardens was magnificently and faithfully restored over a two year period by the Office of Public Works (OPW) until its completion and reopening in 2004.


Costing £800 when it was built in 1884, the Great Palm House, which was made of wood and iron, was prefabricated in the Scottish town of Paisley by James Boyd & Son. It was shipped to Ireland in pieces, then assembled on site: a Victorian flat-pack greenhouse, 65 feet high, 80 feet wide and 100 feet long. In 2004 it reopened to the public after a lengthy restoration which saw it dismantled, conserved and repaired and reassembled.

In the years before the restoration the Great Palm House had become seriously decayed and instable before it was closed to the public in the early 2000s. After more than 100 years, its wrought iron, cast iron and timber construction had seriously deteriorated. Prior to its restoration a large number of panes of glass were breaking each year due to the corrosion and instability of the structure.



As part of the restoration the building was completely dismantled into more than 7,000 parts, tagged for repair and restoration off-site. 20 m. tall cast iron columns within the Great Palm House had seriously degraded and were replaced by new cast iron columns modelled in moulds made from the originals. Using a new process, called 'drop forging' recycled original wrought iron was reheated and reshaped to replace other corroded parts of the building.

To protect the glasshouse from future corrosion, new modern paint technology was used to develop long-term protection for the Palm House. Such a paint system is vital to protect such as this high humidity structure, housing a permanent tropical climate. For Health and Safety reasons, overhead glass was laminated and vertical panes toughened. A specialised form of mastic was used to fix the panes, replacing original linseed oil putty that had contributed to the decay of the building over the century.

Since the restoration of the Palm House Complex was completed in 2004, a major replanting programme has been initiated. In the Palm House itself a rainforest exhibition has been created including several hundred species of palms, cycads, bamboos and other tropical species, particularly from Central America. Displays of important economic plants are also included such as coffee, banana, sugarcane and vanilla.

In 2005 a traditional rainforest house was built from materials brought from the Central American country, Belize. It was constructed a Maya Indian team from the Belize Botanic Gardens, a sister institution of the National Botanic Gardens, and inaugurated by the Taoiseach, Mr Bertie Ahern T.D. in September 2005.

In one wing of the Complex an internationally important collection of tropical orchids, bromeliads and insectivorous species is on display and in the other wing, an extensive display of succulent plants and Cacti from desert regions of ther world has been planted.

In the 1990s another OPW greenhouse restoration project at the National Botanic Gardens received a top Europa Nostra award when Richard Turner's Curvilinear Glasshouse Range was completely restored. These awards represent the first and only Europa Nostra awards for projects in Ireland.

Ciaran O'Connor, OPW Architect who led the restoration project said "We are thrilled and proud to receive this prestigious Europa Nostra Medal, in recognition of one of the most ambitious historic building restoration project ever undertaken in Ireland.

Dr Peter Wyse Jackson, Director of the National Botanic Gardens, said "The restored Palm House Complex provides ideal conditions for the Gardens' internationally important collection of tropical plants, many of which are threatened by extinction in the wild. The restoration project has protected and renewed a magnificent building that was seriously at risk, safeguarding a valuable educational, scientific and cultural resource for the future".