Chicago Reporting Earliest Ever Spring
CHICAGO, USA
14 February 2006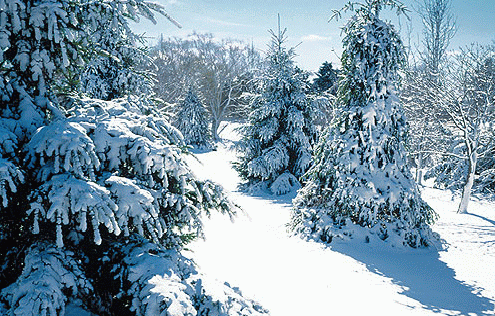 Jen Pierce, horticulturist in the Rose Garden of the Chicago Botanic Garden, recorded this year's first blooming plants, snowdrops, Galanthus nivalis, on January 30.
"It's a really big deal. We've never seen these flowers bloom this early," said Boyce Tankersley, manager of live plant documentation at the Chicago Botanic Garden. The early blooms caused them to examine the other plants and trees.
The harbinger flower bloomed in the same week, where Boyce Tankersley said it's the perennial's earliest emergence in the area in perhaps 30 years.
Tankersley added that the impatient snowdrops are a whole month ahead of schedule, "so this is pretty significant for us."
Chicago usually experiences a short January thaw, but this year there has been a whole month of above normal temperatures, which accelerated the growing cycle all around the area.
Buds have also started appearing on magnolia trees. Although that's normal, closer inspection reveals symptoms that cause concern.
"When they start to swell, crack open, the saps starting to flow," Tankersley said.
Also champing at the bit at the arboretum is Chinese witch hazel. It's displaying swollen buds, which it shouldn't be doing for another three weeks. Cornelian cherry dogwood trees are likewise showing precocious development - "A week of 40-degree temperatures and they'd be blooming," Hedborn said.
At the Botanic Garden in Glencoe, other alpine plants like snowdrops - dwarf irises, grape hyacinth, squills and daffodils - are showing signs of flowering soon.
There are concerns that the warm spell will come to an end and the premature plants will suffer. But Tankersley doesn't fret about the snowdrops - "I've seen them go to 20 degrees Fahrenheit and pop back up" - but is concerned about plants that are less adaptable.
"If it continues to warm and then freezes, you could have damage to other flowers, trees and shrubs," he said.
Staff at the Chicago Botanic Garden have recorded blooms of plants every two weeks since 1997. Before this, snowdrops' earliest flowering came around March 1 in 1999, 2000 and last year.
"It's a reflection of the incredibly warm temperatures we've had in January," said Tankersley. The January Thaw usually lasts seven to 10 days in these parts. "This time it's lasted four weeks."